Ahoy, lovebirds! Hunting for the Best Caribbean Honeymoon Destinations? Let's face it: the wedding was fun, but sorting honeymoons can be as tricky as picking the right side of the bed. Worry not! With its shimmering beaches and 'put your feet up' vibes, the Caribbean is the Hollywood of honeymoon spots.
And because I'm sort of the travel matchmaker, I've rounded up 30 of the best Caribbean honeymoon destinations tailored just for you.
So, if your idea of romance is sipping mojitos by the beach or channelling your inner Indiana Jones with some island adventures, our handpicked list is your treasure map. Dive in and let the honeymooning begin! 🍹🏝️🗺️🥂
Here are the list of best and handpicked Caribbean Honeymoon Destinations
Also Read: 40+ BEST Places to Visit in Europe in December
1. Aruba
Imagine a place where the sun seems to favor, kissing the waters just right, every single day. That's Aruba for you. Now, while most honeymooners chase after the 'popular' spots, Aruba offers an intimate rendezvous away from the crowd. It's not just the postcard-perfect beaches, but the heartwarming locals who'll make you feel like you're on a prolonged family vacation. Don't even get me started on the friendly flamingos of Renaissance Island – they might just photobomb your honeymoon selfies, and believe me, they've mastered their angles! And as for those sunsets? They're the kind that inspire poets and leave newlyweds starry-eyed.
Given all its allure, it's no wonder we've spotlighted Aruba in our handpicked list of Caribbean Honeymoon Destinations. So, for memories wrapped in love, laughter, and a sprinkle of tropical charm, make Aruba your honeymoon haven. Toast to the start of forever with a Caribbean twist!
🌴🌅🥂
2. St Lucia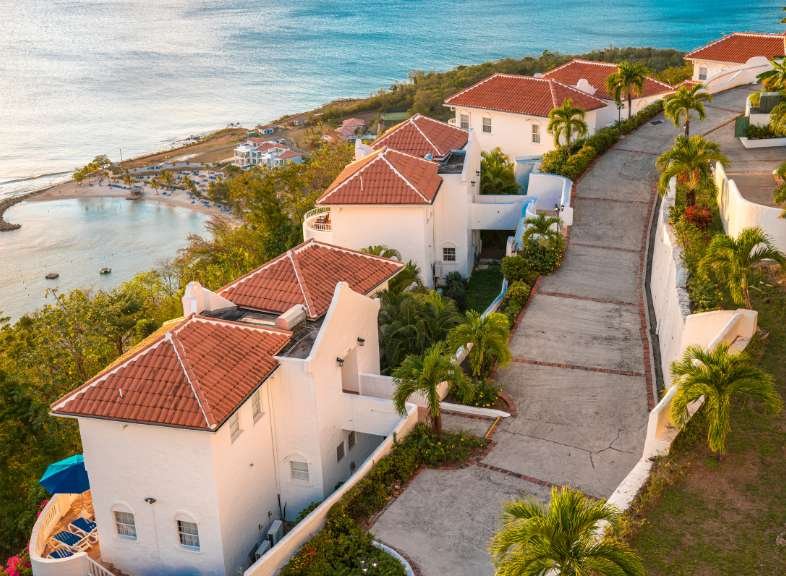 Ah, St Lucia! What a gem! When it comes to honeymoons, most folks think of Paris, or maybe the Maldives. But allow me to let you in on a little secret – St Lucia is where the magic really happens. Picture this: waking up to the sounds of gentle waves, sipping on freshly brewed coffee with an uninterrupted view of the iconic Piton mountains. It's not your everyday, run-of-the-mill view, let me tell you. This undeniable allure propelled St Lucia right to our handpicked list of Caribbean Honeymoon Destinations.
And let's not even get started on the local cuisine. Have you ever tried a banana straight from the tree? It's a game-changer! Now, if you're anything like me and have a slight fear of sunburn (or turning into a tomato), worry not. The island breeze has this amazing talent of keeping things cool. To sum it up, St Lucia is kind of like that unexpected song that comes on shuffle and makes your day.
3. Barbados
Nestled in our curated list of Caribbean Honeymoon Destinations, Barbados shines uniquely bright. It's that perfect fit! Imagine dipping your toes in crystal-clear waters while sipping on some of the finest rum the world has to offer. Oh, and speaking of rum, ever thought about a romantic tour of a rum distillery? Only in Barbados! Plus, if you fancy a tune, the rhythms of calypso are your nightly serenade.
It's got charm, charisma, and caves (Harrison's Cave is a must-see!). And remember, a honeymoon isn't just about the breathtaking views but the memories you create. Barbados offers not just a destination, but stories for your future grandkids. So why not start your forever in a place that feels timeless? Barbados awaits, and trust me, it's more than just an island; it's a feeling.🌴🥂🌊
4. Turks and Caicos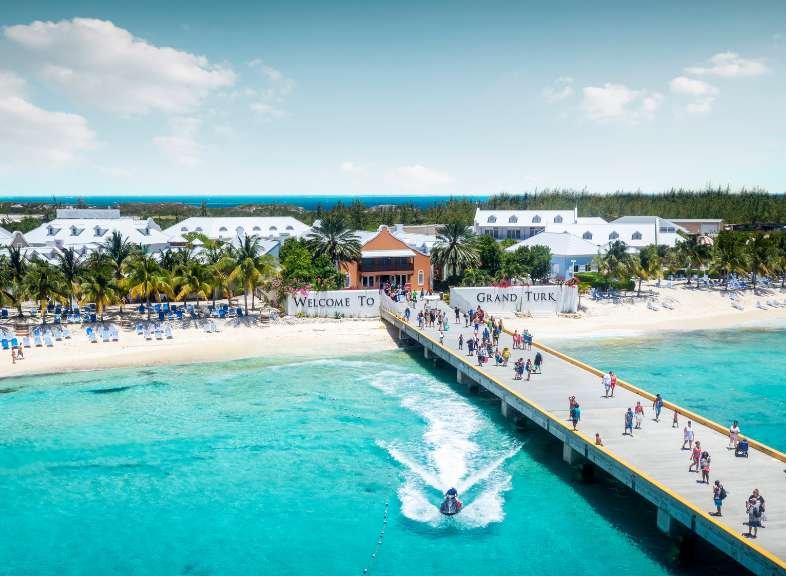 Earning its rightful spot on our handpicked Caribbean Honeymoon Destinations, Turks and Caicos delivers more than just picturesque views. While some places woo you with flashy promises, Turks and Caicos is the understated beauty next door. Gentle waves, endless blue horizons, and sand so soft, you'd think Mother Nature used her favorite quilt. The islands have a knack for making you forget time – and isn't that what love's about? Let's talk food: ever had conch fritters by the beach? It's like the ocean sharing its secret recipes.
And while romantic strolls are lovely, ever considered glow worm tours for date night? Only here! In essence, Turks and Caicos isn't just a getaway; it's a gentle whisper of adventure, romance, and tales worth retelling. Start your wedded adventure where the sea shares its most treasured secrets.🌴🌊💙
People Also Read: Honeymoon Harbour – A Perfect Destination for Your Romantic or Adventure or Weekend Getaway
5. Jamaica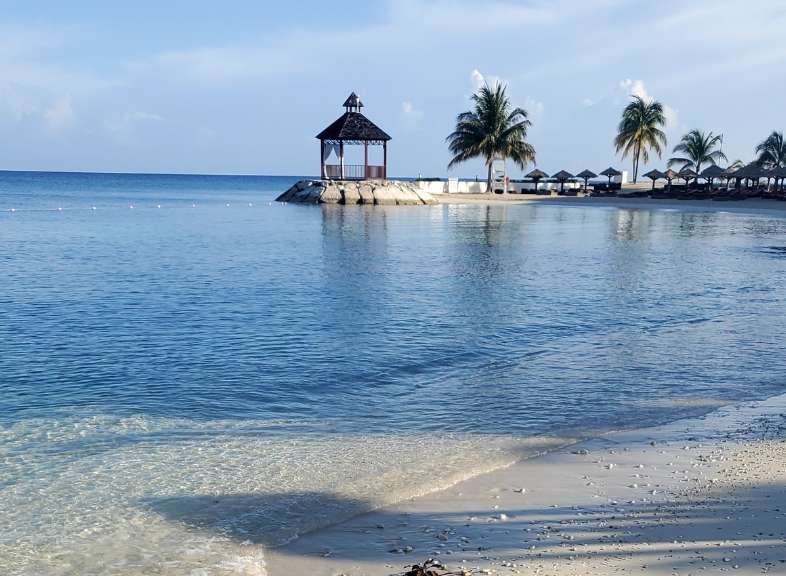 Jamaica isn't just a destination; it's like a favorite old song that instantly lifts your spirits. Now, while many spots brag about their beaches and views, Jamaica brings to the table a little extra – call it soul. Picture yourself indulging in jerk chicken, with a backdrop of live reggae that makes even the palm trees sway. As an undeniable jewel in our handpicked Caribbean Honeymoon Destinations, Jamaica stands out with an unmistakable rhythm of its own.
Worried about those honeymoon calories? A dance on the sands of Montego Bay will sort that right out! But Jamaica's essence? It's in the laughter of the locals, the tales of yesteryears, and that unmistakable feeling of 'home' it gives you. And if you're up for some fun, how about a friendly challenge with your partner at the Blue Mountains coffee tasting? Winner gets the next round of rum punch! For a honeymoon filled with heartbeats and memories, Jamaica's got you. Because here, every little thing is gonna be alright!🌴🎶🍹
6. Negril, Jamaica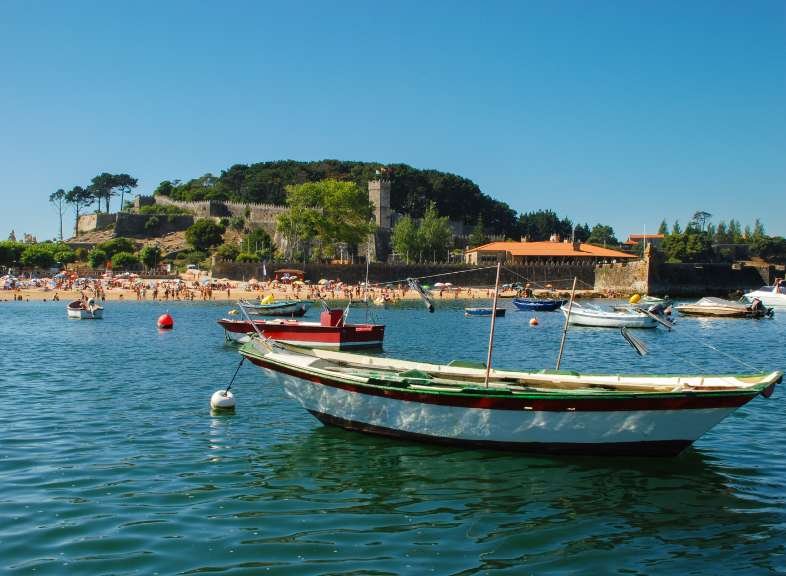 Amid our carefully curated Caribbean Honeymoon Destinations, Negril gleams with a charm all its own. Imagine sand that feels like powdered sugar, and a sea that whispers secrets of the deep. And while sunsets are globally adored, Negril's version at Rick's Café? It's like Mother Nature's standing ovation. But here's the kicker: ever dreamt of cliff-diving on your honeymoon? It's the perfect metaphor for taking the marital plunge!
Still, the real magic? It's in the slower pace, the warm smiles, and the moments when you and your partner feel like the only two people on Earth. Negril isn't about checking boxes; it's about creating tales. For memories dipped in sun, salt, and pure love, Negril awaits. 🌅🍹🌴
7. St. Barths
This island isn't about the glitz, it's the subtle glamour. Imagine waking up and choosing between 14 pristine beaches – honeymoon decisions can be tough, right? And while it's known for its French flair, what's lesser known is its knack for intimate moments. Fancy a croissant at a hidden café in Gustavia? Or perhaps a barefoot dance under a canopy of stars? And if you and your partner ever fancied being "shipwrecked" in luxury, St. Barths is your spot!
The charm lies not just in its turquoise embrace but the heartwarming nods from locals who make you feel right at home. For those seeking romance garnished with elegance and sprinkled with laughter, St. Barths is your honeymoon toast waiting to be raised. And as one of our top picks in Caribbean Honeymoon Destinations, it promises memories as timeless as the tides. Santé to love on a Caribbean jewel!🥂🌴🌊
8. US Virgin Islands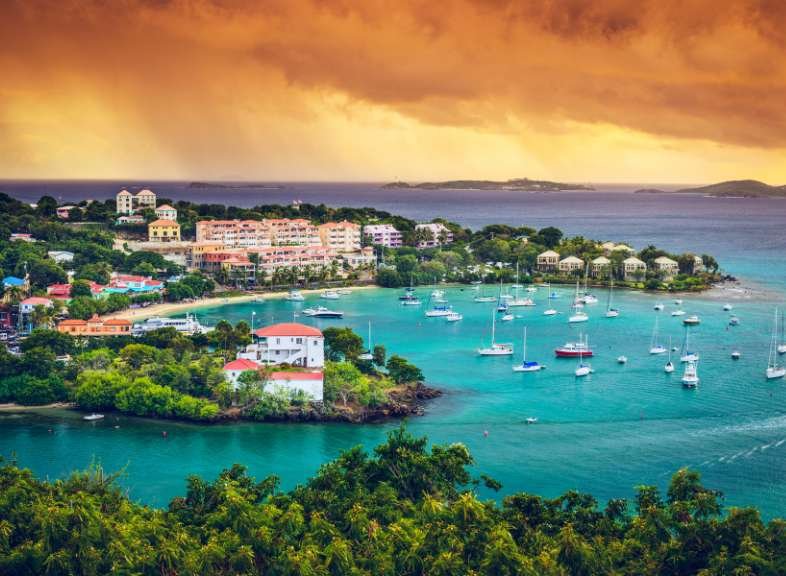 An elegant inclusion in our list of Caribbean Honeymoon Destinations, the US Virgin Islands are truly a lover's paradise. Perfect for couples wanting to whisper sweet nothings amid serene trails. St. Thomas? It's the sophisticated sibling. Think quaint boutiques and panoramic views from Drake's Seat. And St. Croix, with its rich history and vibrant culture, offers a dance through time.
Now, I won't promise you'll bump into a pirate looking for his buried treasure, but with beaches so pristine, you might just find a piece of paradise all to yourself. For a honeymoon that's an enchanting mix of adventure, relaxation, and the occasional iguana photobomb, the US Virgin Islands are calling.🌴🌊💍
Also Read: How to Plan a Dreamy Honeymoon in Ischia
9. Virgin Gorda
Virgin Gorda, with its intriguing name, isn't just another dot in the Caribbean; it's like the secret garden of your childhood dreams – but all grown up. This island isn't about crowded beaches; the secluded coves play peek-a-boo with the sun. "The Baths" is the showstopper, a labyrinth of granite boulders creating secret pools, like nature's very own spa retreat. With such captivating allure, it's no wonder Virgin Gorda takes pride of place in our Caribbean Honeymoon Destinations. Fancy a snorkel? The waters here gossip about the vibrant marine life below.
And while the beaches offer a lullaby of waves, the local eateries serve up love on a plate. Ever had lobster so fresh, it might just share its life story? All humor aside, if you're seeking a honeymoon chapter that's less 'touristy brochure' and more 'personal diary entry', Virgin Gorda offers the ink. Let your love story blossom in the Caribbean's best-kept secret. 🌊🌴❤️
10. St Thomas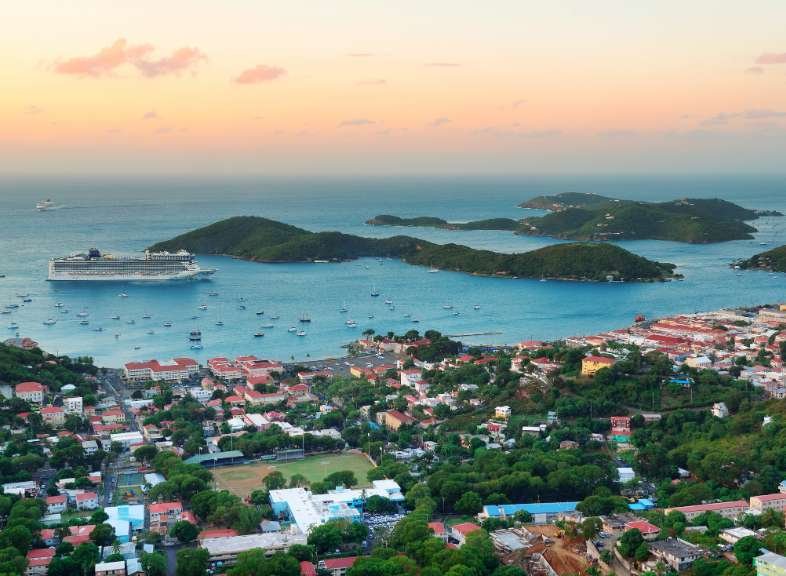 Picture a day starting at Magens Bay, often dubbed the 'bridal suite' of beaches. While the waters are an obvious allure, have you considered the serenades of tree frogs under the night sky? It's nature's own love song. And speaking of songs, ever danced to calypso at a local joint? Trust me, it's the kind of rhythm that makes even two left feet seem charming.
Let's not forget the 99 Steps of Charlotte Amalie – a stairway to panoramic wonders (and maybe a quirky honeymoon workout?). For tales that blend romance with a dash of island zest, St. Thomas is your storyteller. And as we curate our list of Caribbean Honeymoon Destinations, this island stands out as a beacon of love and memory-making. 🌴🍹🌅
11. Tulum, Mexico
Sure, you've got pristine beaches, but Tulum also serves up a slice of the past with its Mayan ruins – a backdrop for selfies that's a tad more majestic than your typical palm tree. Ever dreamt of a honeymoon dinner in a candlelit cave? Well, Tulum's eco-chic restaurants have you covered. Between sips of aguas frescas, you might catch a mariachi band strumming love ballads from yesteryears. Tulum, with its mystique and charm, earns a special mention in our Caribbean Honeymoon Destinations, setting the tone for memories etched in time.
And if you're considering a moonlit walk, the gentle waves at Playa Paraíso offer the perfect rhythm for newlywed strolls. Just a heads-up: the iguanas are avid sunbathers, so you might have to share your sunbathing spot! In Tulum, every moment feels like a gentle blend of yesterday and tomorrow.🍹🏝️🌅
Also Read: Great news, wanderlusters! The upcoming Tulum International Airport is set to launch in December 2023!
12. Puerto Rico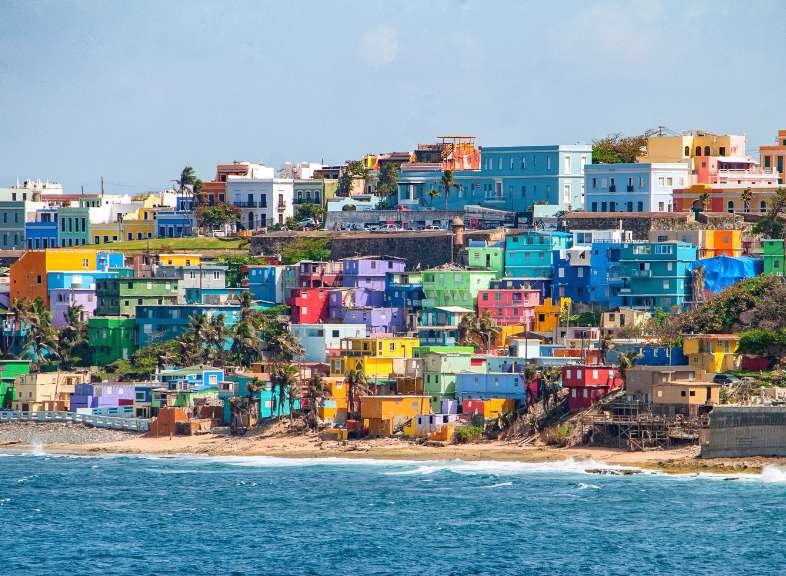 Where love stories get that extra sprinkle of salsa! Puerto Rico, a star in our Caribbean Honeymoon Destinations, offers more than just sun-kissed beaches. Now, if you're envisioning just another beachy escape, let's recalibrate. Picture cobblestone streets in Old San Juan, each corner narrating tales older than your grandma's secret recipes. By day, you can lose yourselves in the lush El Yunque rainforest. By night? Let the melodies of Bomba and Plena serenade you.
Speaking of serenades, ever had tree frogs provide the soundtrack for a moonlit dance? Coquí frogs are up for the task! And for the foodie souls, mofongo is more than a dish; it's an emotion. But here's a little secret: the bioluminescent bays. Imagine waters glowing in tandem with the stars above. A bit of romance? A dash of adventure? Puerto Rico serves it on a platter. 🌴💃🌌
13. Grenada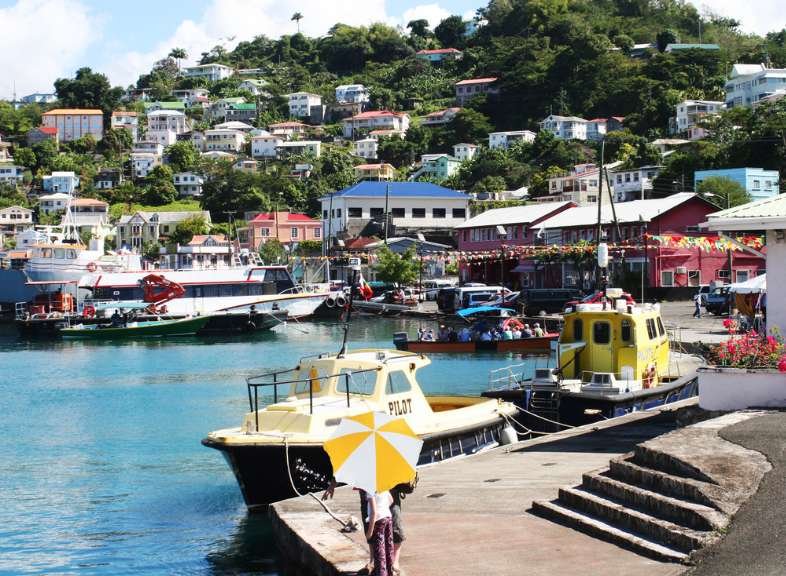 Before you even set foot on its shores, know that Grenada holds a special place in our list of Caribbean Honeymoon Destinations. Thinking of soft sandy beaches? Sure, but here's the twist: how about beaches with a sprinkling of nutmeg scent? Yep, you read that right. Now, when it comes to romantic strolls, Grand Anse Beach offers footprints-in-the-sand moments, but with an island spin.
Hungry for love… and perhaps a bite? Dive into a plate of oil down, the national dish, and discover flavors as vibrant as your love story. Between bites, don't be surprised if you get lured into a spontaneous soca dance-off; the island rhythms are contagious. And if you fancy a bath with a view, the Concord Waterfalls are ready to oblige. In Grenada, it's not just about sunsets; it's about moments spiced just right. 🌴🍛🌅
14. Bermuda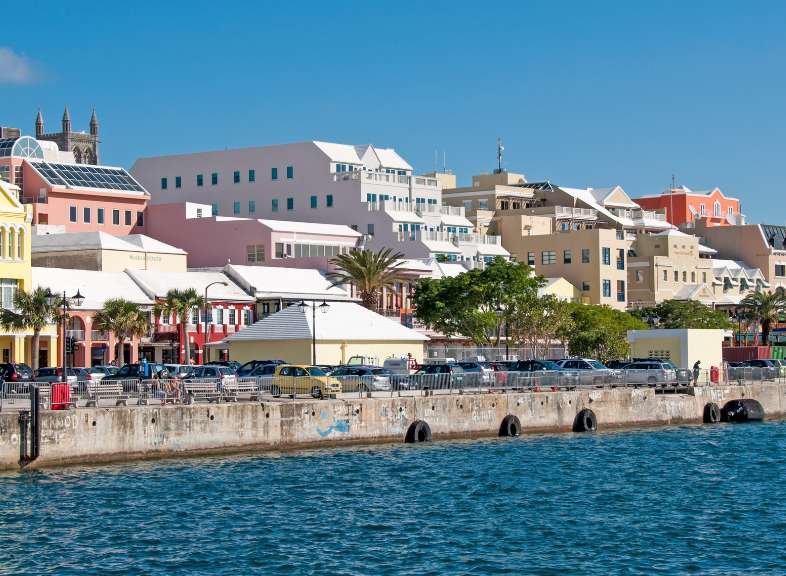 While most islands boast golden shores, Bermuda cheekily offers pink – because why settle for ordinary on your honeymoon? Beyond its rosy beaches, lies a world bursting with character. Fancy a romantic scoot around the island? Well, scooters are the chariots of choice here. And if tales of old fascinate, the mysteries of the Bermuda Triangle await, though the only thing you're likely to lose is track of time.
Dive into crystal caves for a shimmering rendezvous, or indulge in a Dark 'n' Stormy, the island's signature drink (let's hope it's the only storm on your honeymoon!). In essence, Bermuda is less about ticking tourist boxes and more about scribbling love notes to each other. For a chapter filled with pink sands and endless blues, Bermuda's pages beckon. Cheers to island whimsy! 🌴🍹🌸
Also Read: How to Plan a Dreamy Amalfi Coast Honeymoon 2023
15. Antigua
Dreaming of a beach for every day of the year? Antigua charmingly boasts 365, leaving you with the delightful dilemma of where to lounge next. And while sandy siestas are divine, the island's rhythm invites you to sway. The gentle hum of calypso becomes the soundtrack to your evening strolls. Fancy a touch of adventure? A sail to the secluded Rendezvous Bay might just be the secret picnic spot you're seeking.
And speaking of rendezvous, ever dined under a canopy of stars with only the soft murmur of waves as eavesdroppers? Antigua excels in these stolen moments. In a world that often rushes, Antigua gently nudges you to pause and cherish. For sun-kissed memories with a dash of island magic, Antigua awaits. Dive into love, Antiguan style! 🌴🌊💕
16. Cayman Islands
It's where the ocean doesn't just kiss the shore but serenades it with tales of colorful reefs and mysterious shipwrecks. Begin your day on Seven Mile Beach, a stretch that challenges your toes with a question: "How deep can you bury them in the sand?" As you wander hand in hand, the island's blue iguanas might just cast approving nods. Dive deeper, and the underwater world of Stingray City will leave you both spellbound.
And when hunger strikes, a plate of turtle stew offers a taste of tradition (and perhaps a playful debate on who dared to try first!). In the Cayman Islands, every sunset feels like a promise and every dawn, a new adventure. Embark on the journey of marriage where memories come with a hint of salt and endless sunshine. Cheers to island bliss! 🌴🌊🥂
17. San Blas Islands, Panama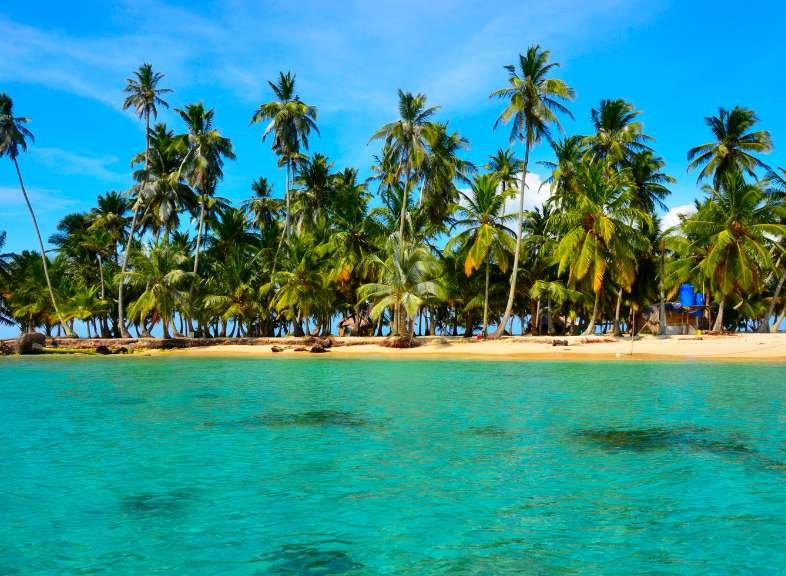 Forget grand hotels; here, you're wooed by rustic cabanas and the gentle hum of nature's lullabies. The Kuna Yala, the indigenous locals, don't just share their lands but also tales woven through generations. Ever traded stories over freshly caught lobster under a canopy of stars? This is the place. And while golden sands are dreamy, imagine leaving footprints on an uninhabited isle.
No WiFi here, but the connection? Stronger than ever! San Blas isn't just a honeymoon destination; it's a gentle reminder of life's simple joys. So, let love bloom where the sea whispers timeless tales. Welcome to paradise, redefined! 🌴🌌🦞
18. Cartagena, Colombia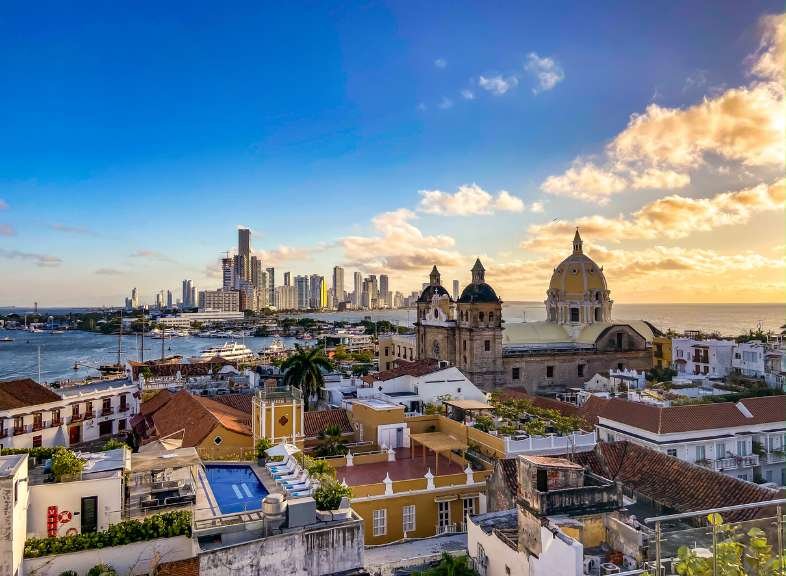 Here, the walls of the old city have mastered the art of keeping secrets, making them perfect accomplices for honeymooners. As you meander through, the vibrant balconies might seem to compete with the colors of your love story. Fancy a dance? The rhythms of cumbia invite you to sway under the moonlight, with the city's colonial charm as your backdrop. Hungry? Delight in ceviche so fresh, the ocean might just send you a thank-you note!
And speaking of notes, ever had a serenade from a passing troubadour? It's Cartagena's way of saying, "Welcome, lovebirds!" For a blend of romance, history, and those unexpected moments that make a honeymoon truly memorable, Cartagena stands with open arms and a playful wink. ¡Salud to love with a Colombian twist! 🌇💃🥂
19. Bahamas
From the rosy embrace of Pink Sands Beach to the playful waves of Cabbage Beach, each stretch tells its own love story. And speaking of stories, the local folklore might be the only thing richer than their rum cake (which, by the way, is a slice of heaven). Fancy a swim? Dive into blue holes that seem like nature's own Jacuzzis.
Just a word of advice: while the Bahamas boasts of 700 islands, trying to visit them all might extend your honeymoon indefinitely (not that it's a bad idea!). For memories that blend sun-kissed days with starlit dances, the Bahamas is your stage. Here's to love, laughter, and a Bahamian breeze! 🌴🍹🌌
20. St Vincent & the Grenadines
I've written about so many, but St. Vincent & the Grenadines holds a special place in my heart. Imagine starting a new chapter with your love on these unspoiled islands, away from the clichéd over-water bungalows. Instead, you'll wake up to the harmonious chirps of birds, not the loud honks of water taxis. Enjoy secluded beaches where the only footprints you'll see next to yours might be a curious hermit crab's.
And the locals? They're as warm as the island sun. They might even share their secret beach spots if you ask nicely (and maybe share a dance or two!). So, why not whisk your better half away to this slice of paradise? Remember, life's too short for ordinary honeymoon destinations. Go where the hermit crabs dance! 😉🌴
21. St Kitts and Nevis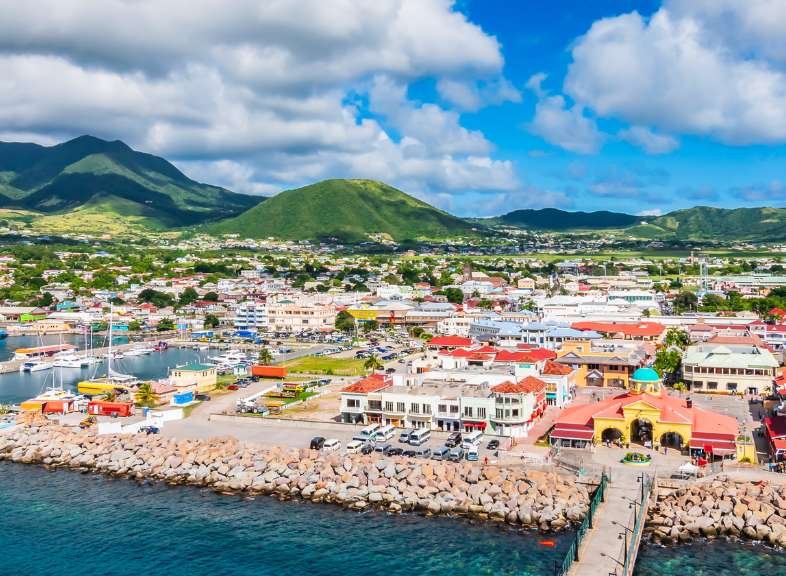 Diving deep into our curated Caribbean Honeymoon Destinations, there's a hidden gem that beckons the heart. Let me let you in on a little secret: St. Kitts and Nevis. Picture this – you and your beloved, sipping on freshly squeezed tropical drinks, while giggling about Aunt Susan's dance moves from the wedding. These twin islands are like that unassuming book on a shelf that, once opened, unveil tales of wonder.
Dive into their rich histories, or perhaps, into the inviting turquoise waters. And the sunsets? Oh, they're nature's own romantic canvas, painted fresh each evening just for you two. Not swayed yet? Here's a thought: why go where everyone else goes? Start your journey together on a path less traveled.🍹🌅
22. St Maarten
Think of it as the endearing neighbor who invites you over and, before you know it, you're sharing life stories over a bowl of island stew. For honeymooners, it's the ideal blend of leisure and fun. Beaches? Golden, like that ring you've just slipped on. Locals? So friendly, you might reconsider your wedding guest list! Ever dreamt of watching planes fly thrillingly close at Maho Beach? Or perhaps, strolling through both French and Dutch territories in a single day? St. Maarten offers this unique blend. And as you nestle into your cozy beachfront accommodation, whispering sweet nothings, just remember: if love's an adventure, then St. Maarten's your starting point.
As we continue to explore the romantic nooks and crannies of the Caribbean Honeymoon Destinations, St. Maarten stands as a testament to love's boundless journeys. Plus, who wouldn't want to tell folks they honeymooned on two nations in one go? Now, that's multitasking!🌴✈️🍹
Also Read: How to Plan a Dreamy Honeymoon in Sicily
23. St Croix
It's the Caribbean's saucy minx of an island. Now, don't get me wrong, it's got all the dreamy beaches and stunning sunsets you'd expect. But, dig a little deeper, and you'll find a playful side waiting to be discovered. Rum distilleries that make you wonder if Jack Sparrow's lurking around the corner, and mysterious tales of pirate treasures buried somewhere along its sandy stretches. Fancy a midnight skinny dip under the shimmering stars? St. Croix won't tell your secrets. As you venture out and about, remember this: sometimes, the naughtiest memories are the most cherished ones.
So, as we continue to showcase the treasures of the Caribbean Honeymoon Destinations, remember that St. Croix offers both romance and a dash of mischief. Why not add a spicy kick to the start of your wedded bliss? St. Croix awaits, you cheeky lovebirds!😉🏴‍☠️🍹🌌
24. Curaçao
In our journey through the most enchanting Caribbean Honeymoon Destinations, Curaçao holds a unique charm. Unlike its name, which can twist your tongue (and perhaps your dance moves after a few island cocktails), the island itself is simplicity and beauty wrapped in azure waters. Dive into its underwater realm where the corals are as colorful as the iconic Handelskade buildings. Local fish might photobomb your snorkeling selfies, but hey, it's all part of the island charm! Curaçao isn't just another dot in the Caribbean; it's a cultural potpourri and a sun-kissed paradise rolled into one.
By the time you leave, you'll not only master the island's name but also carry memories fit for a lifetime of bedtime stories. So, why not let Curaçao be the enchanting chapter in your Caribbean Honeymoon Destinations journey? 😉🌊🍹🏝️
25. Cuba
True love is like a vintage car – it thrives with authenticity, charm, and a few quirky tales to tell. That's Cuba in a nutshell. Meander hand-in-hand through Havana's cobbled streets, where old Cadillacs shimmer like the dreams of yesteryears. Dance the night away to rhythms that ooze passion, maybe even steal a smooch or two amidst the music. Ever had a mojito made with heart, soul, and stories? You're in for a treat! This captivating allure wasn't lost on us; it compellingly nudged us to feature Cuba in our handpicked list of best Caribbean Honeymoon Destinations for you.
Sure, you might not have WiFi everywhere, but who needs Instagram when every corner is a living postcard? Besides, it's your honeymoon; go offline and tune into each other. After all, memories made in Cuba stay etched forever, like that catchy Buena Vista Social Club tune. Olé! 🚗🎶🍹🌅
26. Belize Honeymoon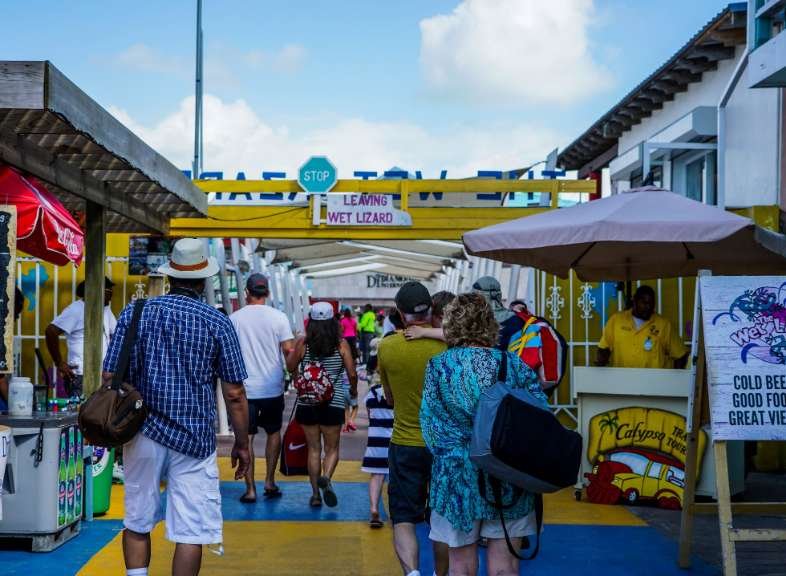 Caribbean Honeymoon Destinations beckon with promises of romance and adventure, and Belize is no exception. It's not just a country; it's a mood, a vibe, an invitation to truly 'be at ease'. Now, think about it – isn't that exactly what you want post the wedding hullabaloo? Belize offers more than just beaches – though, let's be real, its beaches would make any sun lounger's dream come true.
Dive into the Great Blue Hole – not because it's on every diver's bucket list, but because it's a grand invitation to adventure. Explore ancient Mayan ruins, then laugh about who would trip first if you two were Indiana Jones and his sidekick. Dine on seafood so fresh, you'd think it jumped straight from the sea onto your plate! Honeymoons are about creating stories you'd share for years. And believe me, 'we went to Belize' is a story-opener that never gets old.🌅🍤🍹🏺🐠
27. Nicaragua
Now, that's a choice that says you're not just another 'follow-the-herd' couple. Nicaragua is like that surprise ingredient in your grandma's secret recipe: unexpected but utterly delightful. Let's set the scene: You, your sweetheart, and the rhythmic dance of Lake Nicaragua's waves with volcanoes as your backdrop. Romantic, right? Take a stroll in Granada, where history flirts with modernity, and every corner feels like a scene from a vintage romance movie. And speaking of movies, fancy a cinematic sunset? San Juan del Sur's got your ticket.
This undeniable charm and unique allure is precisely why we've woven Nicaragua into our curated list of the best Caribbean Honeymoon Destinations for couples seeking the extraordinary. Forget the Eiffel Tower or Venetian gondolas; in Nicaragua, romance blooms under ceiba trees and amidst the echoes of howler monkeys. It's the kind of place where your love story isn't just celebrated, it's woven into the very fabric of the land.😉🌋🌅🛶🌺
28. Dominican Republic
The Dominican Republic isn't just another pin on the map; it's a radiant gem in our list of handpicked Caribbean Honeymoon Destinations. Why? Imagine miles of sandy beaches that seem to stretch right into forever, ideal for those long, romantic walks. While your footprints disappear, you're left contemplating life's big questions, like who really forgot to pack the sunscreen. Dive deep into its vibrant culture – maybe even shake a leg with a bachata lesson. And trust us, it's all in the hips, kind of like the rhythm of a lasting marriage.
Punta Cana paints a picture so perfect you'd think it leaped right off a postcard, while Santo Domingo narrates tales of history amid its modern hustle and bustle. And let's talk beverages; the DR doesn't just serve cocktails; it pours memories, experiences, and stories into a glass. 💃🍹🌴🎶
29. St John
This gem of the Caribbean isn't just about the glitz or the glam; it exudes pure, untouched elegance. Think of beaches so pristine you'd second-guess leaving footprints. Trunk Bay's underwater snorkeling trail? Imagine it as a museum tour, but where fish are the art exhibits and there are no stern guards shushing you. Revel in the hush of nature, the soothing rhythm of the waves, and perhaps a cheeky mongoose attempting to photobomb your romantic selfie. All these enchanting experiences compelled us to feature it in our curated list of Caribbean Honeymoon Destinations, truly making it a handpicked paradise ideal for couples.
Another advantage? It's often harder to find WiFi here than a secluded beach, perfect for those seeking undistracted moments with their significant other. If you're looking to begin your forever in a place that time seemingly forgot (but you never will), St. John's is your ideal choice.🌅🐟🍹🌴😉
30. St Barths
Not as mainstream as some other Caribbean haunts, but isn't that the charm? It's like that exclusive book club where everyone knows the secret handshake, or in this case, the secret beach cove. Sip champagne on powdery beaches where the only crowd is the parade of starfish below the water's surface. Wander through Gustavia, maybe bump into a celebrity or two, and pretend you didn't notice. 😉 Don't just dine; savor every bite as if it's a love letter from the island itself. And those mesmerizing sunsets? Let's just say they rival the sparkle in newlyweds' eyes.
With all these enchantments, it's no wonder we've handpicked St. Barths as one of the best Caribbean Honeymoon Destinations for you. If you're after timeless elegance with a dash of playful mischief for your honeymoon, St. Barths is waiting with open arms and uncorked bottles! 🍾🌅🏝️🥂
I hope the above list of best Caribbean honeymoon destinations will help you find a perfect destination for your honeymoon. Each destination offers a canvas waiting for couples to paint their love stories. Whether you're seeking quiet intimacy, spirited adventures, or a dash of celebrity-esque luxury, the Caribbean serves it up with a side of unforgettable sunsets, playful waves, and memories to last a lifetime. So, here's to love, laughter, and a Caribbean happily ever after!
FAQ's
What makes St. Barths a popular honeymoon destination?
St. Barths blends elite elegance with Caribbean charm, making it a haven for those seeking luxury, pristine beaches, and a dash of celebrity spotting. It's a perfect mix of relaxation and high-end experiences.
Is St. Maarten safe for honeymooners?
Yes, St. Maarten is generally safe for visitors. Like any travel destination, it's always wise to take standard precautions, stay informed about local news, and avoid isolated areas at night.
Can you easily travel between St. Kitts and Nevis?
Absolutely! There are regular ferries and short flights connecting the two, making island hopping a breeze for honeymooners.
What's unique about a Cuban honeymoon experience?
Cuba offers a blend of vintage charm, rich history, and vibrant culture. Think classic cars, historical Havana streets, and salsa dancing under the stars.
Are there direct flights to Belize from the US?
Yes, several US cities offer direct flights to Belize, making it convenient for honeymooners.
Does St. Croix offer all-inclusive resorts?
St. Croix has a variety of accommodations, including all-inclusive options. However, it's worth exploring local eateries and experiences outside resorts too!
What language do they speak in Curaçao?
The official languages are Dutch, Papiamentu, and English. However, Spanish is widely understood given its proximity to South America.
How's the nightlife in the Dominican Republic?
Vibrant and lively! With a mix of local bars, beach parties, and upscale clubs, there's something for every kind of night owl.
Is Nicaragua a budget-friendly honeymoon option?
Compared to other Caribbean destinations, Nicaragua can be more budget-friendly, offering a rich experience without the hefty price tag.
What activities can one enjoy in St. Vincent & the Grenadines?
From sailing, snorkeling, and diving to exploring unique landscapes and interacting with warm locals, there's no shortage of memorable experiences.
Is the US dollar widely accepted in St. Maarten?
Yes, while the official currency is the Netherlands Antillean guilder, the US dollar is widely accepted, especially in tourist areas.