Hey travellers, Honeymoon Harbour (Honeymoon Harbor) is calling whether you're honeymooners, adventure lovers, families, or just looking for a great relaxing spot! Want sunshine, a bit of excitement, and a unique getaway? Honeymoon Harbour is the place. Located on Gun Cay in the beautiful Bimini islands of The Bahamas, this hidden gem is so exclusive you can only get there by boat or seaplane. Ready to explore this fantastic spot in the Bahamas?
Dive into this blog post as we guide you on how to get there, share the top activities to indulge in, suggest nearby accommodations, explore why Honeymoon Harbour (Honeymoon Harbor) is such a beloved destination, and answer frequently asked questions to ensure you have all the information you need for your trip.
Quick Tip Guide for Your Honeymoon Harbour Adventure 
| | |
| --- | --- |
| Category | Details |
| Language | English (with that fabulous Bahamian accent!) |
| Currency | Bahamian Dollar (BSD) – but many places accept US Dollars too! |
| When to Go | December to April for that sun-kissed glow. Want peace? Try May or November, but keep an eye on those stormy forecasts! |
| How Much Time to Spend | A weekend getaway? Great! A week-long retreat? Even better! Choose your flavour of paradise. |
| Getting There | Fly to Bimini and then set sail or soar on a seaplane to Honeymoon Harbour. Oh, and don't forget to wave at the dolphins below! |
| Must-Pack | Swimsuit? Check! Sunglasses? Check! Snorkeling gear? Yes, please! And maybe some lovey-dovey vibes for the honeymoon ambience? |
| Transportation | On Bimini: bicycles, golf carts or your own two feet! To Honeymoon Harbour: boats, seaplanes or if you've got a pair of magical flying flip-flops… just kidding! Take your pick for a boat ride with a view or a seaplane with style! |
How to Get to Honeymoon Harbour
Pop quiz! Where's Honeymoon Harbour? If you guessed the northern tip of Gun Cay, about 10 miles south of Bimini, give yourself a cookie! Now, how to get there? First, hop on a flight to Bimini. With South Bimini Airport (BIM) and North Bimini Seaplane Base (NSB) at your service, even if you're directionally challenged, you're golden!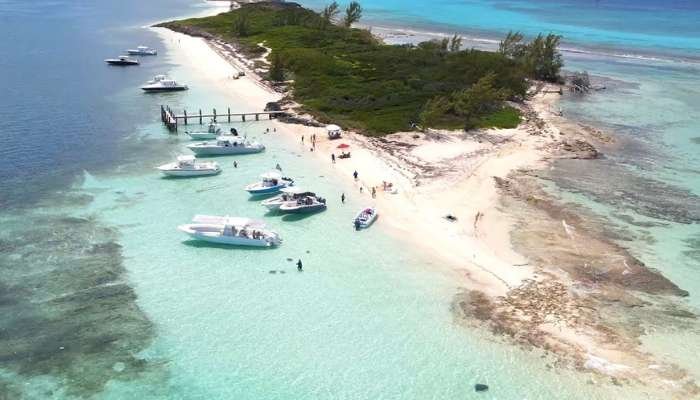 Once your toes touch Bimini, the adventure begins! Go old school and cruise by boat – either playing captain by renting a vessel or chilling with top operators like Bimini Undersea, Bimini Scuba Center, and the fancy-sounding Eclipserentalsbimini. Want to reach there quicker than you can say "honeymoon Harbour Bahamas"? Take a 10-minute seaplane ride with Tropic Ocean Airways and swoop into paradise!
Also Read: How to Plan a Dreamy Amalfi Coast Honeymoon 2023
What to Do at Honeymoon Harbour
Imagine a beach that screams, "Come, lay down and forget the world!" That's Honeymoon Harbour for you. And if lounging isn't your thing, don't fret! Dive into clear waters and say hello to the friendly stingrays. They're the unofficial welcoming committee and love a good selfie!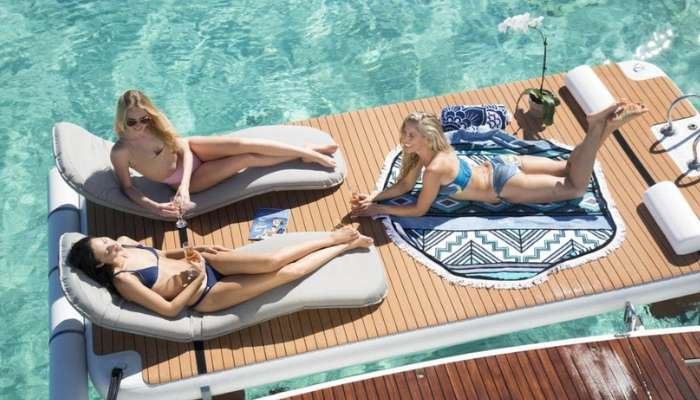 When you've had your fill of stingray shenanigans, the marine world of sharks, turtles, and playful dolphins awaits. And if you're the "keep feet on land" type, Gun Cay's trails are ready to be explored.
Where to Stay Near Honeymoon Harbour
Alright, let's clear things up. There are only a few fancy hotels directly on Gun Cay. However, there are great places to stay close by in Bimini and the surrounding areas. Imagine staying at the Hilton in Resorts World Bimini, learning about history at Bimini Big Game Club Resort, or enjoying the modern comforts at Luna Beach Resort. If you're thinking of Honeymoon Harbour, travelling with family? Bimini Sands Resort is perfect for families. If you want the best of the best, Kamalame Cay is a private dream spot.
Bimini Honeymoon Harbour (Honeymoon Harbor)
Why do people visit Honeymoon Harbour in the Bahamas?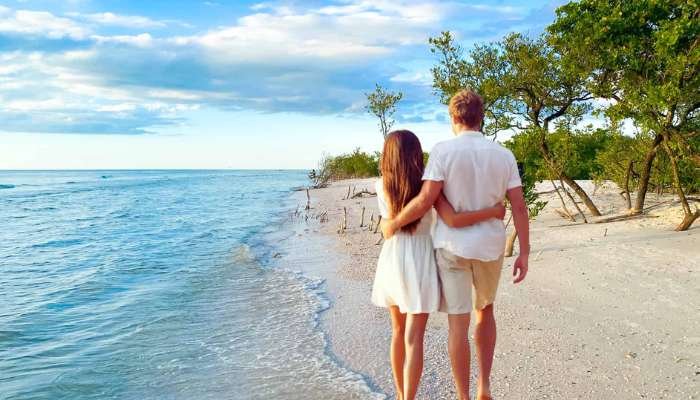 For many reasons, Honeymoon Harbour, nestled between Gun Cay and North Bimini in the Bahamas, is a magnet for visitors. Firstly, the locale is renowned for its pristine white sandy beaches that provide the perfect setting for relaxation and sunbathing. The surrounding waters are crystal clear and calm, making it a haven for snorkelling enthusiasts, swimmers, and those wishing to wade in its soothing waves. This combination of natural beauty and tranquil ambiance makes Honeymoon Harbour an irresistible destination for many searching for a serene getaway.
Also Read: How to Plan a Dreamy Honeymoon in Sicily
Conclusion
Wrapping up our journey through Honeymoon Harbour, it's evident that this Bahamian paradise is much more than just a name. Offering a delightful blend of relaxation, adventure, and untouched natural beauty, it welcomes all—honeymooners, families, adventurers, and those simply seeking a serene escape. With its pristine beaches, friendly marine life, and the ambiance of exclusivity, Honeymoon Harbour is more than just a destination; it's an experience. Whether you arrive by boat or seaplane, cherish the moments, soak in the views, and leave with memories that will beckon you back. Safe travels, and may your visit to Honeymoon Harbour be as magical as its tales.
FAQ's
Here are some commonly asked questions by travelers.
Where is Honeymoon Harbour located?
Honeymoon Harbour is a secluded beach on Gun Cay, just south of Bimini in the Bahamas. It's boat-accessible and famous for friendly stingrays that approach visitors.
How to get to Honeymoon Harbour Bimini?
To reach Honeymoon Harbour Bimini, you can take a ferry from either North or South Bimini. Operators like Bimini Undersea and Bimini Scuba Center provide daily services. It's a 20-minute ride costing about $40 per person.
Is 7 days enough for a honeymoon?
A 7-day honeymoon can be perfect for many couples, but it depends on what you want. Popular week-long honeymoon spots include Cambodia, South Africa, and Greece.
What state is Honeymoon Island in?
Honeymoon Island is in Florida. This state park boasts miles of beaches near another beautiful spot, Caladesi Island.
Is Honeymoon Harbour and Honeymoon Island the same?
No, it is not the same; Honeymoon Harbor is not in any U.S. state. It is a beach on Gun Cay, just south of Bimini in the Bahamas. However, you might confuse it with Honeymoon Island, a Florida state park.
Why is Bimini so famous?
Bimini is known for its clear beaches, rich history, and mysteries like the Bimini Road – thought by some to be a trace of Atlantis. Notably, Ernest Hemingway found inspiration here.
Is Bimini part of the United States?
No, Bimini is a district of the Bahamas located 50 miles east of Miami.
Does Bimini require a passport?
A passport, along with other identification and a return ticket, is essential for Bimini. Always check the current travel protocols, including those related to Covid-19.
What is the currency in Bimini?
Bimini uses the Bahamian Dollar, equivalent to the US Dollar. ATMs are available, but having cash is helpful for small transactions.
Does Bimini take US dollars?
Yes, both US and Bahamian dollars are accepted in Bimini. If you use US dollars, you might get a change in Bahamian currency.
Is Bimini private?
Bimini is open to the public. There are, however, private resorts and islands, like Cat Cay, that have restricted access.
Can you live in Bimini, Bahamas?
Living in Bimini is possible with the proper permits. There are various residency options, each with specific criteria and costs.
How much is $100.00 US dollars in the Bahamas?
$100 US equals $100 Bahamian. However, some things might be pricier in the Bahamas than in the US.
Are beaches accessible in Bimini?
Bimini beaches are accessible, including popular ones like Radio Beach. Some areas, especially near resorts, might have fees for certain facilities.
Can you walk around Bimini?
Walking in Bimini, especially North Bimini, is doable. Renting a golf cart or bike is advisable for longer distances.
Is the Bahamas cheaper than the US?
The Bahamas can be pricier in areas like food and transportation. However, some items, like clothing, might be more affordable.
Are the Bahamas expensive?
While the Bahamas can be pricey for luxury travellers, there are budget-friendly options if you plan wisely.
Are there Ubers on Bimini?
Uber doesn't operate in Bimini or the Bahamas. Taxis are available, or you can rent golf carts or bikes to move around.
How far is Bimini from Miami by boat?
Bimini is about 50 miles east of Miami, making it a popular short-boat trip for many. The duration depends on the boat's speed but generally ranges from 2 to 3 hours.
Can you swim in the ocean at Bimini?
Absolutely! Bimini boasts clear blue waters, perfect for swimming, snorkelling, and diving.