Tulum International Airport, poised to open its doors in December 2023, stands as the gateway to the Riviera Maya's untouched beauty. Tulum Airport is located near the ancient and charming Tulum and is set to unlock a plethora of experiences for travelers.
Quick Information
| | |
| --- | --- |
| Information | Details |
| Official name of Tulum Airport | Aeropuerto Internacional Felipe Carrillo Puerto |
| Tulum Airport Airport code | IATA: TQO, ICAO: MMTU |
| Tulum Airport Expected launch date | December 2023 |
| Tulum Airport Capacity to handle passengers annually | 4 million to 5.5 million |
| Tulum Airport Construction started on | April 3, 2023 |
| Airlines that have announced to fly from the Tulum Airport | Aeromexico, Viva Aerobus, Mexicana de Aviación |
| Official website Of Tulum Airport | grupoolmecamayamexica.com.mx  |
| Google Map Address | 9F7C+72, 77130 Macario Gómez, Q.R., Mexico |
| Google Map Location | Find It On Google |
| Design and features of Tulum Airport | Mayan-inspired architecture, natural materials, solar panels, rainwater harvesting, waste management systems, 10-kilometer long runway, 13 positions for commercial aircraft, 28 positions for general and executive aviation, terminal building, control tower, fire station, fuel station, cargo area, parking lot |
| Location and accessibility of Tulum Airport | 20 kilometers north of Tulum, in the municipality of Felipe Carrillo Puerto, Quintana Roo, connected to the Highway 307 and the Mayan Train network, close to the border with Belize |
| Amenities and services of Tulum Airport | Lounges, Wi-Fi, dining options, customs, immigration, baggage claim, security, check-in, self-service kiosks, online check-in |
| COVID-19 protocols | Negative COVID-19 test result or proof of vaccination, health declaration form online, mask, social distance, hand sanitizer |
| Booking options | Websites of the airlines, online travel agencies, travel agents, tour operators |
| Benefits and opportunities | Easier access to the southern Riviera Maya, saving time and money, creating jobs, improving infrastructure, attracting investments, boosting tourism, economic, and social growth |
| Environmental impact | Loss of at least 1.3 million trees of more than 60 different species, 43 environmental impacts (38 adverse and 5 beneficial), potential effects on the local community and the natural beauty of the region |
| Challenges and risks | Managing the environmental impact, preserving the natural beauty of the region, respecting the local community and culture, ensuring the safety and quality of the airport, and competing with other airports in the region. |
Latest Updates
September 24, 2023 –
"They are already working on the finishes of the terminal of the new Felipe Carrillo Puerto Tulum International Airport, in Quintana Roo. In December we inaugurated it."
– Andrés Manuel, Constitutional President of the United Mexican States
August 11, 2023 – Felipe Carrillo International Airport in Tulum has been designated as the new secondary hub for Mexicana Airlines, a previously defunct airline brand recently revived by the Mexican government with an investment of 815 million pesos ($47 million USD).
June 6, 2023 – President Lopez Obrador stated that the construction of Tulum Airport is progressing, with approximately 44% of the work completed. 
March 24, 2023 – Tulum Airport is scheduled to be operational by April 2024, with Viva Aerobus set to be the first airline to commence operations.
December 2022 – The airport project, which was 20% complete, has been restarted. President AMLO has reassured the Mexican populace that the project is slated for completion in December 2023.
September 2022 – Construction of the eagerly awaited new airport in Tulum, valued at 15.5 billion pesos ($770M USD), had been paused due to budgetary and funding constraints.
Tulum International Airport
Strategic Location:
Approximately 20 kilometers north of Tulum, Tulum Airport is nestled in Felipe Carrillo Puerto, offering easy access to the southern part of Riviera Maya and nearby Belize. Tulum Airport is well-connected through major highways and the upcoming Tren Maya, so travelers are provided with convenient options.
Facilities and Amenities
Tulum Airport is envisioned to provide comfort and convenience, featuring a range of amenities, including lounges, free Wi-Fi, diverse dining options, and shops offering local crafts, ensuring a pleasant experience for travelers as they navigate through Tulum Airport.
Air Connectivity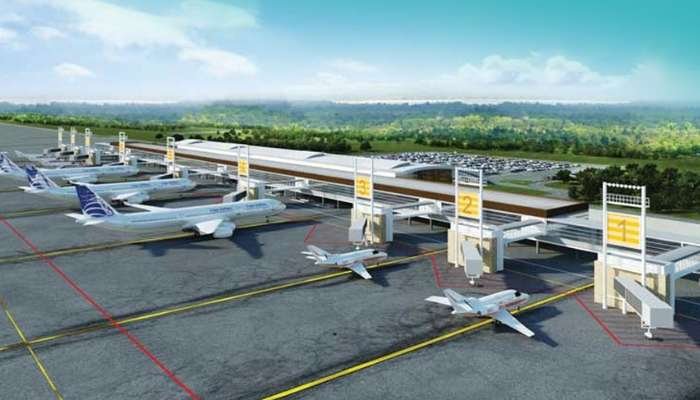 With airlines such as Aeromexico and Viva Aerobus initially serving Tulum Airport, it will connect Tulum to major cities in Mexico, providing flexibility and convenience for travelers. The possibility of more airlines joining Tulum Airport ensures expanded connectivity.
Sustainable Development
Tulum Airport is designed to handle 4 million passengers annually and symbolizes resilience and sustainability. Inspired by Mayan architecture, Tulum Airport aims to blend tradition with modernity while safeguarding the ecological and cultural treasures of the region.
Tourism and Local Engagement
The opening of Tulum Airport represents a balance between fostering tourism growth and ensuring responsible travel. Tulum Airport encourages visitors to engage with local communities, explore cultural heritage, and contribute to environmental preservation.
Relationship with Cancun Airport
Tulum International Airport complements Cancun International Airport, adding a new dimension to the travel landscape in the region. It offers travelers diverse experiences, from Cancun's vibrant atmosphere to Tulum's serene beaches.
Exploring Riviera Maya
Beyond Tulum Airport, Riviera Maya offers a canvas of experiences. From ancient ruins and clear waters to vibrant markets and warm locals, Tulum Airport provides a journey of discovery, adventure, and shared experiences.
In-Depth Exploration
Delving deeper into what the surrounding areas offer, travelers from Tulum Airport can explore Playa del Carmen, Cozumel, and other gems of the Yucatan Peninsula. Each location offers unique experiences, rich history, and diverse landscapes.
Culinary Journey
The region around Tulum Airport offers a culinary adventure, with a variety of dining options available. From local delicacies to international cuisine, travelers can savor different flavors and discover the culinary richness of Mexican culture.
Historical Significance
The ancient Mayan ruins in Tulum and nearby Coba, easily accessible from Tulum Airport, hold historical significance, offering insights into the ancient civilization. Exploring these sites allows travelers to learn about the history and cultural heritage of the region.
Travel Tips and Advice
For those landing at Tulum Airport, practical travel tips and advice can enhance the overall experience. Knowing what to expect from the best times to visit to the must-see attractions can make the trip more enjoyable and memorable.
Diverse Perspectives
Interviews with local experts, testimonials from visitors to Tulum Airport, and insights from travel bloggers can provide a comprehensive view of what Tulum and the surrounding areas have to offer. Diverse perspectives enrich the content and offer a well-rounded view of the destination.
Conclusion
Tulum International Airport is not just a gateway; it's the starting point of an unforgettable journey into the heart of the Riviera Maya. With its strategic location, modern amenities, and commitment to sustainability, Tulum Airport is set to become a key hub for travelers seeking to explore the region's natural beauty, rich culture, and historical heritage. This article has provided an overview of what we know about Tulum Airport and the myriad experiences it unlocks for travelers. From exploring ancient ruins to savoring diverse cuisines, Tulum Airport serves as the threshold to a world of adventure and discovery in the enchanting lands of the Riviera Maya.
FAQ's
Here are some frequently asked questions for Tulum Airport
Where is Tulum International Airport situated?
It's 20 km north of Tulum, in Felipe Carrillo Puerto, Quintana Roo, Mexico.
When is the airport scheduled to open?
It's set to open in December 2023.
What's the airport's official name?
Aeropuerto Internacional Felipe Carrillo Puerto.
Runway length and capacity of the airport?
It features a 10 km runway and can handle 4 million passengers annually.
What design elements are incorporated in the airport?
It reflects Mayan culture, using eco-friendly materials and technologies.
Which airlines are announcing routes to this airport?
Aeromexico and Viva Aerobus initially, with others showing interest.
Is the airport connected to the Mayan Train project?
Yes, it integrates with sections 5-7 of the Mayan Train network.
How does the airport benefit the region and travelers?
It boosts tourism, economy, creates jobs, and offers convenience.
What are the COVID-19 protocols at the airport?
Standard Mexican protocols apply, including testing, vaccination, and health forms.
How can I book a flight to this airport?
Through airlines' websites, online travel agencies, or travel agents.