Looking for things to do in Whitby? Welcome to the delightful coastal gem of Whitby in North Yorkshire, UK, where the past meets the present in a harmonious dance of history, culture, and sheer charm. This enchanting town, perched on the North Sea, offers more than just its famous Gothic abbey, scrumptious fish and chips, and the Dracula connection. So, what activities and experiences will truly make your visit memorable?
Whether you're a history buff, a culture connoisseur, a nature lover, or simply on the hunt for good old-fashioned fun, Whitby has an array of experiences waiting for you. We're not talking about the run-of-the-mill touristy stuff here; we're diving deep into the heart and soul of this coastal town.
So, buckle up and get ready to embark on a journey through the 20 best things to do in Whitby. It's not just a checklist of attractions; it's a curated selection of experiences that will make your Whitby adventure a uniquely unforgettable one. As you conclude your visit, you'll undoubtedly add a few personal top picks to the list of things to do in Whitby.
Here are the best things to do in Whitby, for every type of traveller
Whitby Abbey
A journey to Whitby would be incomplete without a rendezvous with the enchanting ruins of Whitby Abbey. Nestled atop a rugged cliff, it stands sentinel over the town and the vast expanse of the sea. This 13th-century marvel once thrived as a bustling monastery and a hub of enlightenment. Alas, it fell victim to Henry VIII's Dissolution of the Monasteries, but its mystique endured. In fact, it served as the wellspring of inspiration for Bram Stoker's iconic tale of Dracula, where the vampire himself arrives in Whitby by ship, clambering up the abbey steps.
Explore the abbey's hallowed grounds, delving into its rich history at the visitor center. Alternatively, accompany a guide on an enthralling journey or follow the audio trail. And, of course, don't dare to miss the breathtaking vistas from the abbey's summit, particularly as the sun dips below the horizon. Therein lies the true magic of things to do in Whitby.
📍 Google Map Location
📞+1 194-760-2984
🌐 Website
The 199 Steps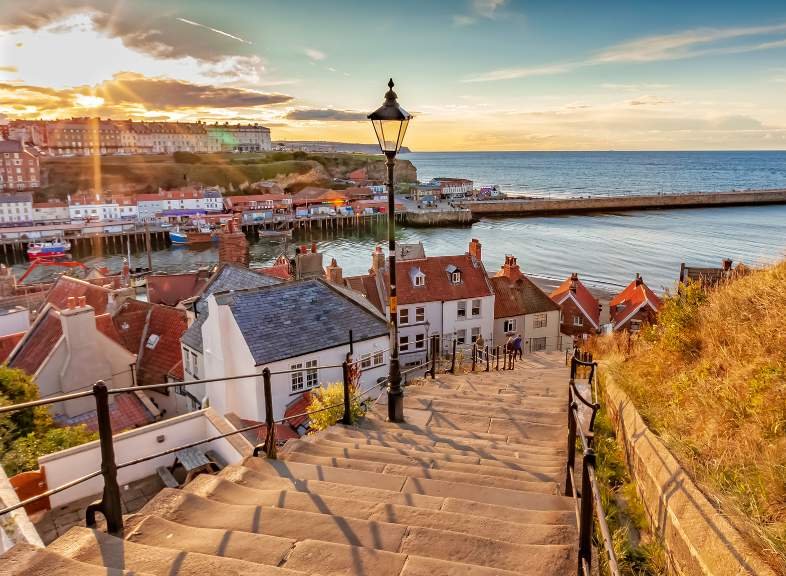 If you're up for a little adventure during your visit to Whitby, why not take on the challenge of ascending the 199 steps that connect the town to the ancient Whitby Abbey? These time-worn stone steps, dating back to the 18th century, offer a picturesque path up the cliff, and they're more than just a way to reach the top. Along the way, you can soak in stunning views of the harbor and the vast sea, while discovering intriguing gravestones and sculptures that pepper the route. You might even amuse yourself by counting the steps or identifying the various stones that make up this unique stairway. Once you conquer the climb, reward yourself with a visit to the abbey or unwind with a refreshing drink at a nearby pub. It's definitely one of the charming things to do in Whitby, and it's a journey worth taking.
📍 Google Map Location
🌐 Website
St Mary's Church
Nestled in the heart of Whitby, there's a delightful surprise waiting for you – St Mary's Church. This charming gem, with origins dating all the way back to the 12th century, stands as a testament to the town's rich history. Its unique character shines through in the mishmash of architectural styles and the endearingly leaning tower. Step inside, and you'll be welcomed by a captivating blend of history and artistry. From ancient carvings to the kaleidoscope of stained glass windows, even the quirky box pews, and an awe-inspiring three-tiered pulpit, it's a journey through time. And if that's not intriguing enough, this church also holds a connection to Captain James Cook's family and made an appearance in the Dracula tale as the final resting place of Lucy Westenra. So, if you're seeking captivating things to do in Whitby, St Mary's Church is a must-visit.
📍 Google Map Location
📞+44 194-760-3421
🌐 Website
Captain Cook Memorial Museum
In Whitby, where the sea breeze carries tales of adventures, Captain James Cook's legacy shines as bright as the ocean's horizon. This legendary explorer, known for navigating the globe and unearthing lands like Australia, New Zealand, and Hawaii, is a local hero. If you're curious about the man behind the legend, the Captain Cook Memorial Museum is your portal to his world. Housed in the very dwelling where young Cook honed his seafaring skills, the museum unveils a treasure trove of history. There, you'll encounter original artifacts, documents, evocative paintings, and intricate ship models that chronicle Cook's monumental voyages. It's a voyage through time and a glimpse into Whitby's shipbuilding and whaling heritage. Plus, you can even step into a replica of Cook's cabin aboard his illustrious ship, the Endeavour. It's one of those unforgettable things to do in Whitby, and it'll make you feel like a sea captain too.
📍 Google Map Location
📞+44 194-760-1900
🌐 Website
Whitby Museum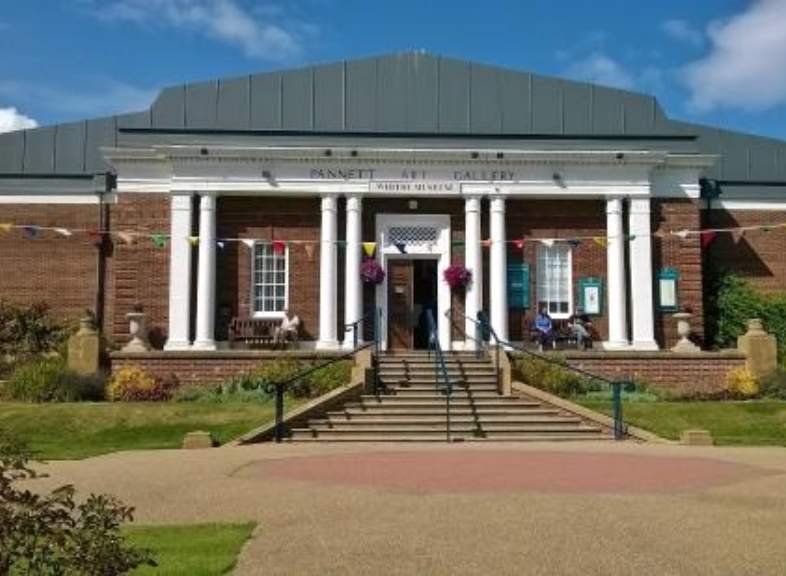 For a delightful dive into Whitby's captivating history and culture, a visit to the Whitby Museum is like uncovering hidden treasure. Nestled in the serene embrace of Pannett Park, this museum is a portal to the town's rich tapestry. Within, a remarkable collection of artifacts, fossils, paintings, costumes, and intricate models unveils Whitby's vibrant past and present. Among the marvels, you'll discover the renowned Whitby jet jewelry, the enigmatic "hand of glory," formidable whaling harpoons, and even the remains of prehistoric giants, and dinosaur bones. The tales of local legends, like the menacing Barghest, a ghostly black dog said to prowl these streets, add an extra layer of mystique. It's one of those things to do in Whitby that's a blend of history and wonder, and it'll make you feel like a true local lore explorer.
📍 Google Map Location
📞+44 194-760-2908
🌐 Website
Whitby Beach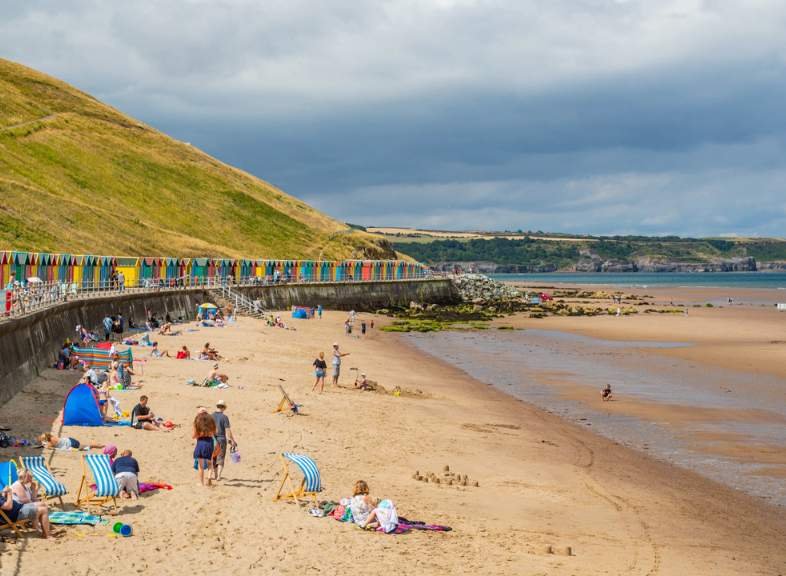 When it comes to Whitby, you can't miss its splendid sandy shoreline that stretches as far as the eye can see. This beach is like the town's cozy, sandy sofa, where you can enjoy a leisurely stroll, take a refreshing dip, or embark on a day of pure seaside fun. Think sandcastles that rival ancient fortresses, colorful kites flirting with the breeze, and sunbathing as if you're auditioning for a part in a seagull's summer blockbuster. A stroll along the promenade treats you to a charming lineup of beach huts, while amusement arcades and the promise of donkey rides add a touch of whimsy. And when the belly rumbles, it's time for a classic coastal feast – fish and chips or a scoop of ice cream from the merry stalls and shops dotting the shoreline. It's one of those things to do in Whitby that makes you feel like you've entered the best chapter of a seaside novel.
📍 Google Map Location
🌐 Website
Whitby Harbour
Nestled at the heart of Whitby, the town's vibrant soul comes to life at Whitby Harbour. Here, you'll find a delightful blend of activity and relaxation, offering an array of engaging experiences for those exploring the things to do in Whitby. Watch as fishing boats, yachts, and pleasure cruises gracefully ebb and flow with the tide. Take a moment to marvel at the rhythmic dance of the swing bridge, as it opens and closes to allow vessels to glide through. If you wish to traverse to the other side of the river, your path is clear.
📍 Google Map Location
🌐 Website
Whitby Jet Heritage Centre
To delve into the fascinating tale of the Whitby jet and its crafting process, there's no better place than the Whitby Jet Heritage Centre. Here, you can witness the art of mining, cutting, and polishing this mystical material, transforming it into stunning jewelry. As a memento of your journey, don't forget to explore their charming shop, where you can take home a piece of Whitby's history in the form of jet souvenirs. A chance to dive into the depths of things to do in Whitby while exploring the depths of the earth's own treasures awaits.
📍 Google Map Location
📞+44 194-782-1530
🌐 Website
Robin Hood's Bay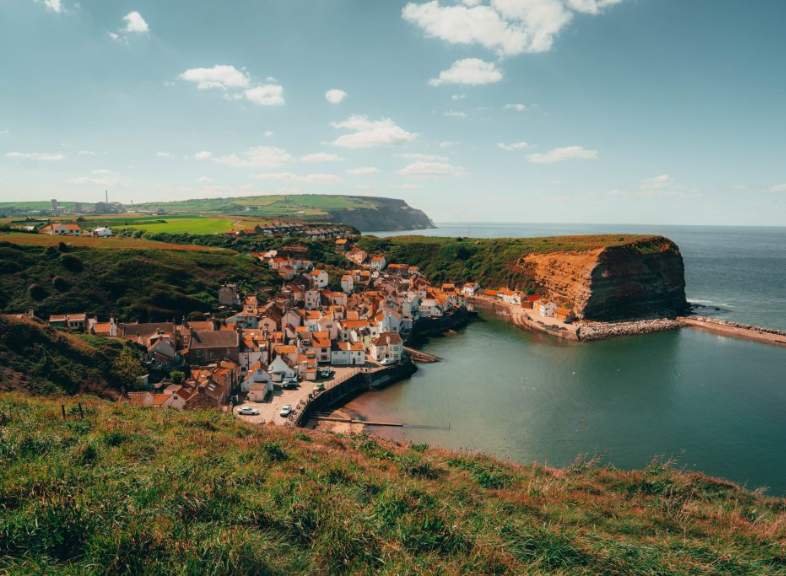 The village's meandering, steep lane unravels a delightful secret a sandy beach and a rocky cove, where your soul can dance to the rhythm of the waves. Alongside, you'll find quaint cottages, welcoming pubs, charming shops, and a museum, each whispering tales of days gone by. As for the shore, it hides treasures of its own – fossils and sea glass awaiting your discovery.But there's more to this bay's story. Step back in time to the 18th century when Robin Hood's Bay was a smuggler's sanctuary, with secrets that echo through the ages. In your journey to explore the things to do in Whitby, this village offers a glimpse into nature's bounty and history's whispers.
📍 Google Map Location
🌐 Website
Whitby Lighthouse
Standing tall and gleaming like a guardian of the waves, the Whitby Lighthouse is a time-honored sentinel on the west pier of the harbor. Since its construction in 1858, it's been a steadfast guide for mariners venturing into the welcoming arms of Whitby's port.
Should you muster the energy to conquer 81 steps, a rewarding spectacle awaits you at the apex. The lighthouse's crown offers a sweeping canvas of the town's charm, the endless expanse of the sea, and the ancient cliffs that guard these shores. And what's more, a captivating exhibition inside unveils the captivating history and technology behind these maritime beacons.
The best part? The lighthouse extends a warm welcome to visitors on specific dates throughout the year, ready to weave its luminous tale into your things to do in Whitby experience.
📍 Google Map Location
📞+44 194-760-2051
🌐 Website
Whitby Pavilion
Tucked away by the seaside, the Whitby Pavilion is like a treasure chest of experiences waiting to be unlocked. It's not your average venue; it's a chameleon, ever-changing with the seasons. Here, amid the things to do in Whitby, you can indulge your inner cinephile, catch a play that tickles your funny bone, sway to the rhythm of a concert, or lose yourself in the magic of a comedy show.
But the Pavilion doesn't stop there – it's got more tricks up its sleeve. Fancy a twirl on the dance floor? Or perhaps a workshop to ignite your creative spark? The Pavilion's hall is your playground for these adventures.
📍 Google Map Location
📞+44 194-745-8899
🌐 Website
Whitby Brewery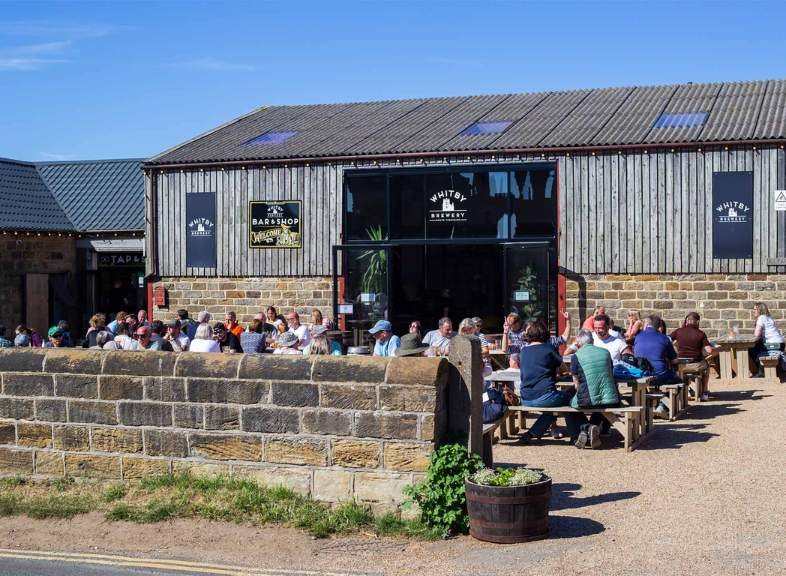 In the heart of Whitby, you'll find the delightful Whitby Brewery, a place where beer-making is elevated to an art form. It's not just a business; it's a family's labor of love. These local alchemists brew award-winning beers, combining the magic of traditional methods with the finest local ingredients.
But here's the real treat: you can step behind the curtain and witness the brewing symphony unfold, from malt to bottle. It's like a backstage pass to a beer lover's dream concert. And what's more, they invite you to sample their creations. Have a sip of Jet Black, revel in the Abbey Blonde, or discover the golden treasures of Smuggler's Gold.
And if you find a newfound love in your glass, no worries. The brewery's shop beckons, where you can take home some beer and a memento or two. Or, simply savor a pint right at the brewery tap. It's a journey into the heart of things to do in Whitby that'll leave you happy and content.
📍 Google Map Location
📞+44 194-722-8871
🌐 Website
Whitby Dracula Experience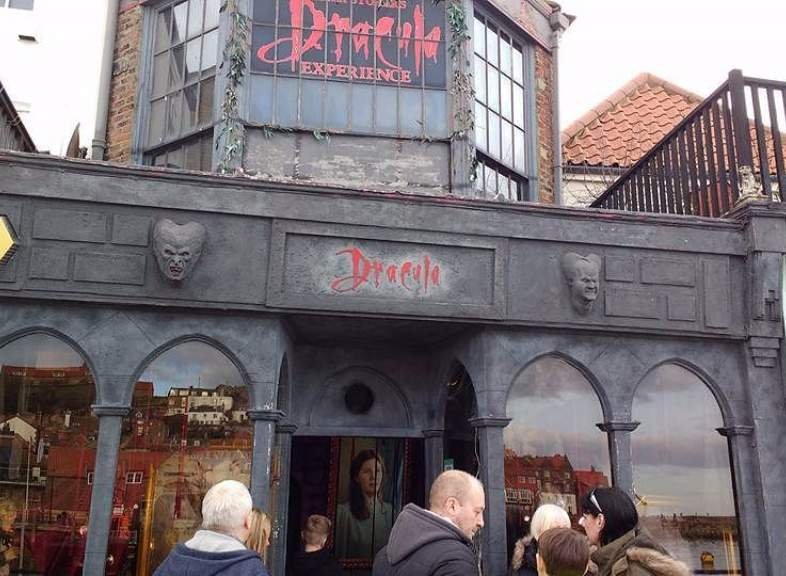 For those with a penchant for spine-tingling tales and mysteries, the Whitby Dracula Experience is a must-visit among the "things to do in Whitby." This intriguing journey immerses you in the eerie world inspired by Bram Stoker's legendary novel.
Once you step into this shadowy realm, be prepared for a spine-chilling encounter with Dracula, his haunting brides, hapless victims, and formidable foes. As you navigate through the dimly lit passages, you'll not only come face to face with Stoker's timeless characters but also uncover the very history and folklore of Whitby that ignited the author's imagination.
While this experience welcomes all ages, keep your wits about you, for jump scares and curious special effects may await around each corner. A journey through Whitby's darker side, where laughter and shivers intertwine, beckons those who dare to explore the mysterious things to do in Whitby.
📍 Google Map Location
📞+44 194-760-1923
🌐 Website
Whitby Adventure Golf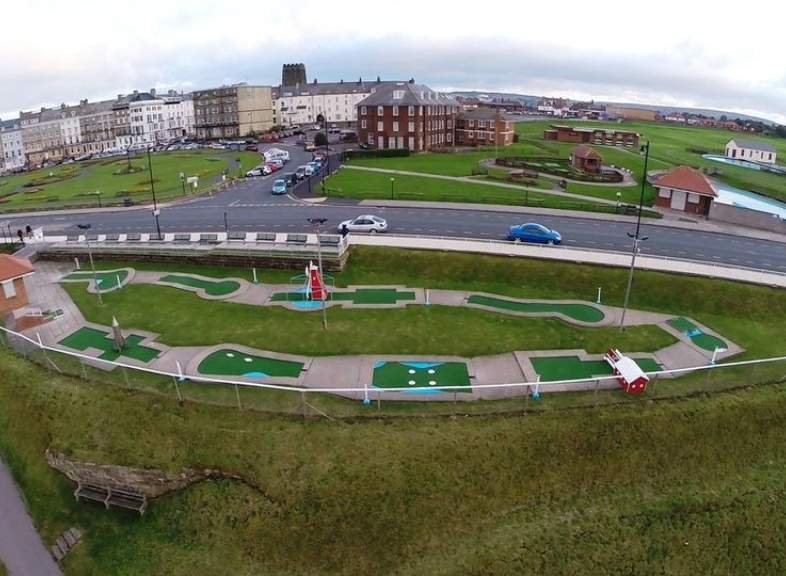 Amid the things to do in Whitby, Whitby Adventure Golf offers a delightful, story-filled mini-golf experience. This 18-hole course is more than just golf; it's a journey through Whitby's captivating history and legends.
Each hole presents a unique obstacle and an intriguing narrative, featuring the abbey, jet, whaling, smugglers, and even the infamous Dracula. As you perfect your swing, you'll absorb the essence of Whitby's heritage and lore.
What makes this adventure even more special is the backdrop of breathtaking views of the sea and the bustling harbor. Regardless of your age or golfing skills, everyone is welcome at this course, open year-round. It's a whimsical exploration of "things to do in Whitby," where you don't just play golf; you immerse yourself in the rich tapestry of Whitby's tales while aiming for that perfect putt.
📍 Google Map Location
📞+44 194-782-0145
🌐 Website
Whitby Walks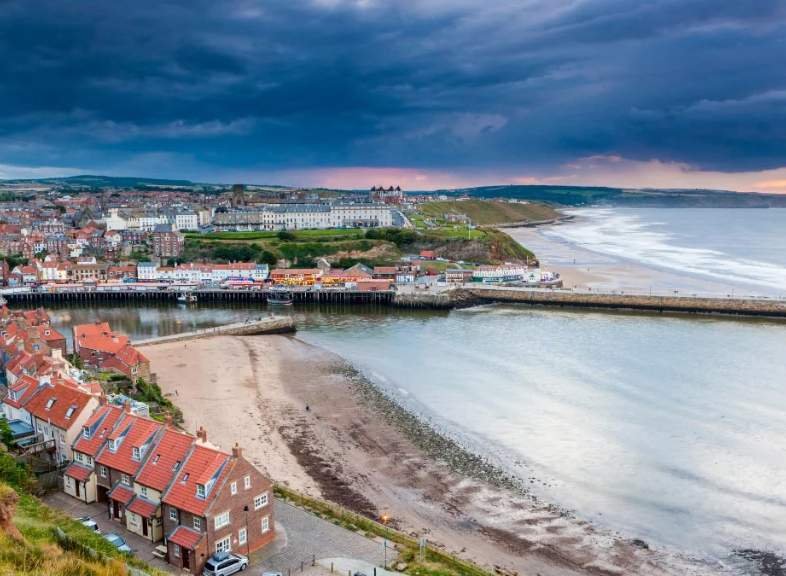 In the realm of things to do in Whitby, consider Whitby Walks as your cordial guide. They specialize in intimate, guided walking tours not only within Whitby but also in its enchanting surroundings. From the captivating Whitby Story Tour to the spine-tingling In Search of Dracula Tour, and even the mysterious Ghost Walk, there's an adventure tailored for every curious soul. Plus, if your heart desires a personalized journey, Whitby Walks can craft a custom tour just for you.
These tours, led by knowledgeable guides, promise an exploration that's as enlightening as it is entertaining. So, lace up your walking shoes and embark on a delightful journey with Whitby Walks, where the stories of Whitby come to life one step at a time amidst your quest for things to do in Whitby.
📍 Google Map Location
📞+44 788-080-1957
🌐 Website
Whitby Museum of Victorian Science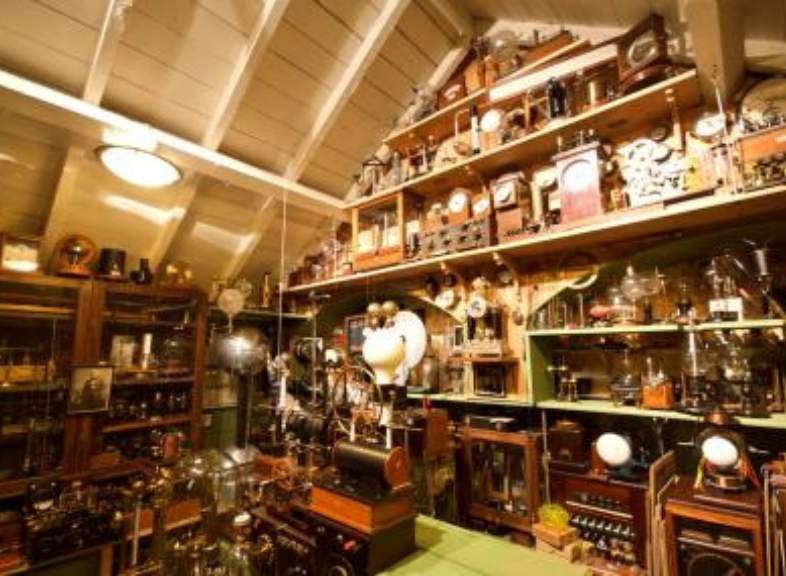 As you explore the diverse offerings among things to do in Whitby, don't miss the fascinating Whitby Museum of Victorian Science. This unique museum unveils the marvels of the Victorian era's scientific inventions and discoveries. Here, you can get up close and personal with original devices that once reshaped the world – the electric telegraph, the steam engine, the phonograph, and even the mysterious x-ray.
But the charm doesn't end there. The museum delves into the stories of Whitby's own scientific luminaries, including William Scoresby, Henry Cholmondeley-Pennell, and George Merryweather. It's not just a museum; it's a captivating, educational journey that transcends age, where history and innovation intertwine. So, if you're on the lookout for an intellectual adventure in Whitby, the Whitby Museum of Victorian Science should definitely be on your things to do in Whitby checklist.
📍 Google Map Location
📞+44 194-789-7440
🌐 Website
Whitby Whale Watching
Amid the things to do in Whitby, Whitby Whale Watching offers a unique maritime adventure. They provide boat trips for a close encounter with the incredible marine life in Whitby's waters. Whether you choose a two-hour or four-hour cruise depends on the season and weather conditions. You'll have the chance to see whales, dolphins, porpoises, seals, sharks, seabirds, and spectacular scenery. The boat is comfortable with a heated cabin and a restroom. The knowledgeable and passionate crew will share insights and commentary on the animals you encounter. For an unforgettable marine wildlife experience in Whitby, Whitby Whale Watching is a must-visit.
📍 Google Map Location
📞+44 794-145-0381
🌐 Website
Whitby Jet Works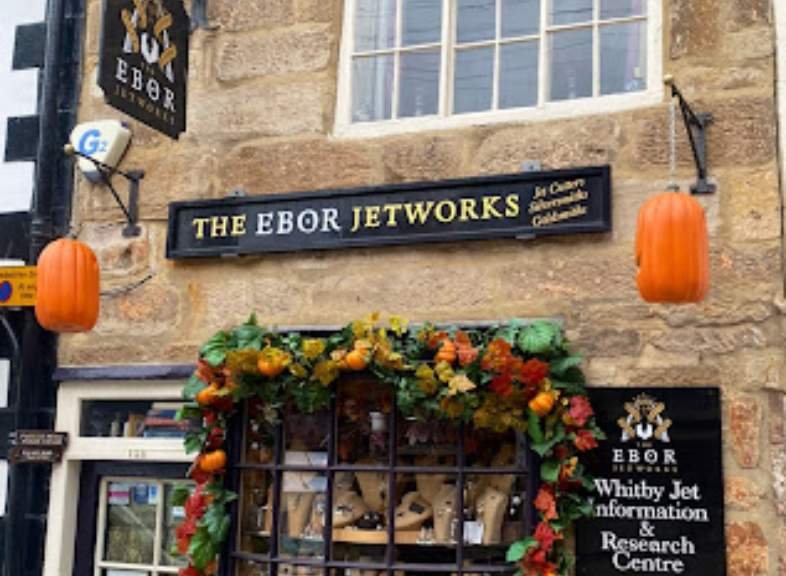 Nestled among the enticing array of things to do in Whitby, Whitby Jet Works invites you into the mesmerizing world of Whitby jet jewelry. This workshop and shop specialize in the creation and sale of exquisite jet jewelry. A visit here allows you to witness the remarkable journey of jet, from raw material to polished gemstone.
Skilled craftsmen bring this transformation to life, using a blend of traditional techniques and contemporary designs. As you observe these artisans at work, it's like peeking behind the curtain of an age-old craft. And what's more, you have the chance to take home a piece of this artistry, either choosing from their collection or even commissioning a custom-made creation tailored to your style and budget. For a touch of elegance and a unique memento within the realm of things to do in Whitby, Whitby Jet Works is a true gem worth exploring.
📍 Google Map Location
📞+44 194-760-3113
🌐 Website
Whitby Glass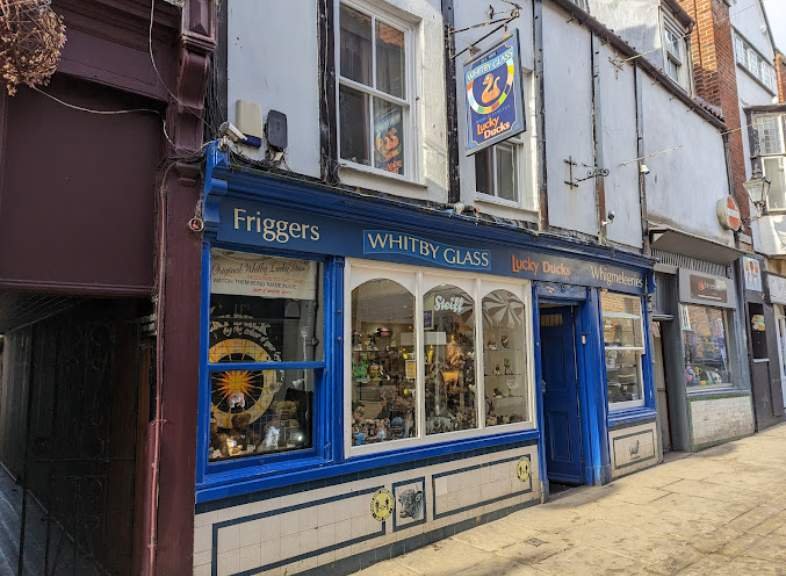 Amid the myriad of things to do in Whitby, Whitby Glass stands as a cherished family-run treasure. Since 1962, they've been crafting exquisite glassware by hand. A visit unveils the art of glassblowing, shaping, and decorating, a captivating spectacle. Don't miss the famous Whitby lucky ducks, believed to bring good fortune. The shop offers a range of glass souvenirs, from vases and ornaments to jewelry and, of course, the iconic lucky ducks. For a personalized glimpse into the world of glass craftsmanship during your exploration of things to do in Whitby, Whitby Glass is a must-visit.
📍 Google Map Location
📞+44 194-760-3553
🌐 Website
North York Moors Railway
Amid the tapestry of things to do in Whitby, the North York Moors Railway unfolds as a charming journey through time and nature. This heritage railway winds its way through the breathtaking vistas of the North York Moors National Park. At Whitby station, you have the delightful choice of boarding either a steam or a diesel train, embarking on a voyage to the historic market town of Pickering, with several captivating stops along the way.
As you traverse this scenic route, your eyes will feast upon the moors, woodlands, and quaint villages. And for those craving a dash of magic, the Goathland station awaits, famously known as Hogsmeade station in the Harry Potter films. Here, you'll find a pinch of enchantment amidst your exploration of things to do in Whitby. It's not just a train ride; it's a voyage through history and nature that leaves you with timeless memories.
📍 Google Map Location
🌐 Website
Conclusion
Whitby truly offers a smorgasbord of experiences, a delightful blend of history, culture, nature, and sheer fun. Whether it's the haunting beauty of the Gothic abbey, the sun-kissed sands of the beach, or the lively folk festival, Whitby caters to all tastes and budgets. It's a place that effortlessly weaves its tales into your heart, leaving you yearning for more visits. And so, Whitby's allure is bound to beckon you back, time and time again.
I trust you've relished this exploration of the things to do in Whitby. Your thoughts and musings are always welcome in the comments below. Your support and wanderlust are deeply appreciated, and I promise more travel tales await in my upcoming blogs. Until then, may your travels be filled with laughter, discovery, and a dash of whimsy!