If you're a smoker traveling through Orlando Airport, you may be keen on locating the Smoking Area Orlando Airport provides or wondering where, within the complex, you can have a cigarette or vape. For many, smoking offers solace during stressful travels or lengthy layovers. However, it's crucial to acknowledge the health and environmental concerns tied to smoking, not to mention the discomfort it might bring to other travelers sensitive to smoke. Consequently, airports, including Orlando, enforce specific guidelines on this matter. In this article, we'll delve into the Smoking Area Orlando Airport has, its related policies, and alternative solutions to consider while waiting.
Introduction to Smoking Area Orlando Airport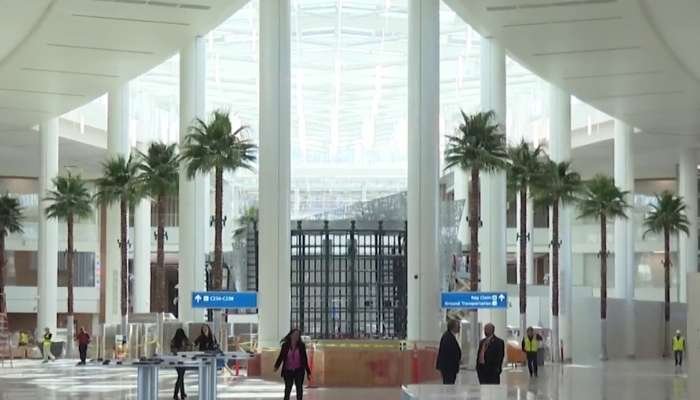 Orlando International Airport (MCO) is the busiest airport in Florida and the 10th busiest airport in the United States, serving over 50 million passengers annually. It is also the main gateway to the world-famous attractions of Orlando, such as Walt Disney World, Universal Studios, and SeaWorld.
The outside smoking area at Orlando Airport is the only place where you can smoke on airport grounds. Smoking is not allowed anywhere else at Orlando Airport, including inside the terminal building, on the airside shuttle trains, at the gates, or on the planes. This also applies to electronic cigarettes and vaping devices. If you are caught smoking in a non-smoking area, you could face a fine of up to $500 for individuals and $2,000 for businesses.
Where is the designated smoking area at Orlando Airport?
The smoking area Orlando Airport is not inside the terminal building but outside on Level 1 (arrivals) and Level 3 (departures) across the street from Concourses A, B, C, and D2. There are designated smoking areas marked with signs and ashtrays where you can smoke before or after your flight. However, as per Florida law, you will need to stay at least 20 feet away from any entrance or exit of the terminal building.
Smoking Area Orlando International Airport Map
To help you find the smoking area Orlando Airport more easily, we have created a map for you. You can see it below: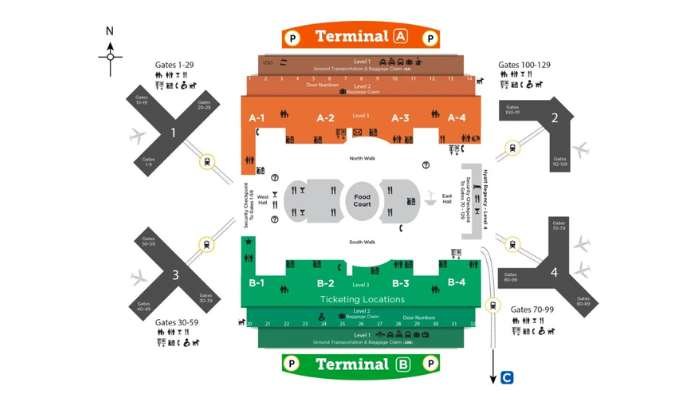 Smoking area Orlando Airport Policies
Smoking at Orlando International Airport is governed by the Florida Clean Indoor Air Act (FCIAA), which prohibits smoking in most public places and workplaces. The FCIAA also bans smoking within 20 feet of any entrance or exit of a public building. The FCIAA aims to protect the health and safety of non-smokers from the harmful effects of secondhand smoke.
The FCIAA allows smoking in designated areas of airports, as long as they are outdoors and away from any entrance or exit. The smoking area Orlando Airport meets these criteria, as it is located across the street from the terminal building and has signs and ashtrays. However, not all airports in Florida have smoking areas, so be sure to check before you travel.
Can you buy cigarettes at Orlando International Airport?
Yes, you can buy cigarettes at Orlando International Airport. Several shops like Duty-Free Americas and Hudson News sell tobacco products at MCO. You can find them in various locations throughout the airport, including near the smoking area Orlando Airport. However, be aware that there are limits on how much tobacco you can bring into or out of the country without paying taxes or fees. For example, if you are travelling to or from the United States, you can only bring up to 200 cigarettes or 100 cigars per person.
Official Website of Orlando Airport
If you want more information about Orlando International Airport, such as flight schedules, parking options, ground transportation, services and amenities, you can visit their official website at [www.orlandoairports.net]. You can also download their mobile app for iOS and Android devices, which offers features such as flight tracking, airport maps, shopping and dining guides, and more.
Alternative to Smoking area Orlando Airport
If you are looking for an alternative to smoking area Orlando airport, consider using nicotine replacement products, such as patches, gums, or lozenges. These products can help you reduce cravings and withdrawal symptoms while travelling without smoking. They are also safer than cigarettes, as they do not contain harmful chemicals or produce secondhand smoke. We hope this blog post has been helpful and informative for you. If you have any questions or comments about the smoking area Orlando Airport, feel free to leave them below. We would love to hear from you. Happy travels and happy smoking!
FAQ's
Here are some commonly asked questions by travelers.
Is there a smoking area at Orlando Airport?
We have allocated specific smoking zones for your convenience. These zones are situated outside, across the street from the terminals, and on Level 2 after passing through security, where you'll find the designated Smoking Deck.
Do airport lounges have smoking areas?
Travellers who smoke and wish to enjoy a cigarette before boarding a flight or during a layover can discover dedicated lounges equipped with matches and ashtrays. These designated smoking areas are available in numerous airports worldwide and in certain bars and restaurants.
Can you smoke in public in Orlando?
Smoking or vaping is generally not allowed in the majority of public spaces. In 1985, Florida implemented the Clean Air Act with the aim of safeguarding individuals from the health risks associated with secondhand tobacco smoke and vapour. This legislation restricts smoking in the majority of public and private establishments, including restaurants. A smoking sign at Tusker House in Disney World serves as a reminder of these regulations.
Can you smoke after security at Orlando Airport?
Smoking is only allowed within designated areas at the curb-side on both the first and second levels, which are situated across the street from the terminal. If you have connecting flights, you'll need to exit the terminal to smoke outside, re-enter the United States, and then pass through Security once more for your onward flight.
Can you leave the airport during a layover to smoke?
If that's the situation, you will need to remove your luggage from the airport and visit an outdoor smoking area. Upon returning to the airport, you'll be required to undergo security screening again. It's essential to be aware that leaving an airport to smoke can be particularly inconvenient, especially if you have a layover in a foreign country.