If you're a smoker jetting through Miami International, pinpointing the Smoking Area Miami Airport offers might be on your to-do list. Whether it's to alleviate travel stress or pass time during extended layovers, many turn to smoking as a respite. However, the repercussions of smoking on health, environment, and fellow travelers sensitive to smoke shouldn't be overlooked. Recognizing these concerns, airports like Miami International set firm rules concerning smoking. In this piece, we'll navigate the Smoking Area Miami International Airport features, Miami airport smoking area's pertinent regulations, and alternative pastimes you might explore while in transit.
Miami Airport Smoking Area (MIA)
Miami International Airport (MIA) is one of the busiest airports in the world, serving over 45 million passengers annually. It is also the gateway to Latin America and the Caribbean, offering flights to more than 160 destinations in 60 countries. Whether you are traveling for business or pleasure, you might be wondering if you can find a smoking area at Miami airport. The answer is yes but with some limitations.
Smoking Area at Miami Airport
The Miami airport smoking area is located inside Concourse D at the TGI Friday's smoking lounge near Gate D-362. This is an open-air (open at the top) atrium attached to the restaurant, where you can enjoy a cigarette and a drink while waiting for your flight. The smoking lounge is open from 6 a.m. to 10 p.m. daily. You can access it from the North Terminal, which serves American Airlines and its partners. If you are flying from another terminal, you will need to go through security again to enter the North Terminal.
This smoking area at Miami airport is the only place where you can smoke indoors at Miami airport. Smoking is not allowed anywhere else inside the airport, including E-cigarettes. If you want to smoke outside, you can do so on Level 1 (arrivals) and Level 2 (departures) across the street from Concourses D, E, F, H, and J. However, you will need to stay at least 20 feet away from any entrance or exit.
Smoking Area Miami Airport Policies
Smoking area Miami airport is regulated by the Florida Clean Indoor Air Act (FCIAA), which prohibits smoking in most public places and workplaces. The FCIAA also bans smoking within 20 feet of any entrance or exit of a public building. Violators of the FCIAA can face fines of up to $500 for individuals and $2,000 for businesses.
The FCIAA allows smoking in designated areas of airports, as long as they are enclosed and separately ventilated. The smoking area Miami airport meets these criteria, as it is an open-air atrium that does not affect the air quality of the rest of the terminal. However, not all airports in Florida have smoking areas, so be sure to check before you travel.
Can you buy cigarettes at Miami International Airport?
Yes, you can buy cigarettes at Miami International Airport. There are several duty-free shops that sell tobacco products at MIA, such as Duty-Free Americas and International Shoppes. You can find them in various locations throughout the airport, including near the smoking area Miami airport. However, be aware that there are limits on how much tobacco you can bring into or out of the country without paying taxes or fees. For example, if you are traveling to or from the United States, you can only bring up to 200 cigarettes or 100 cigars per person.
Smoking Area Miami Airport Map
To help you find the smoking area Miami Airport more easily, we have created a map for you. You can see it below: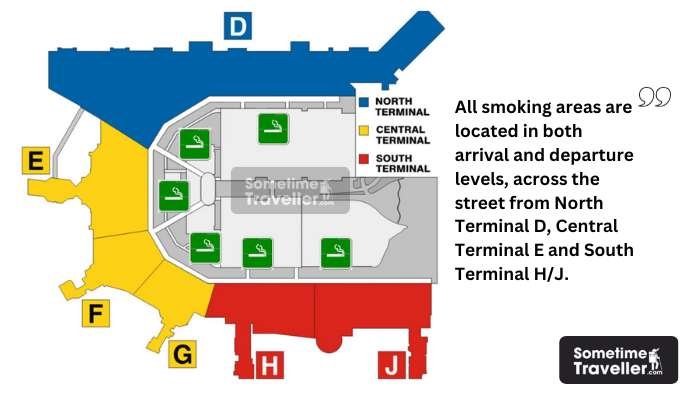 As you can see, in this Miami Airport smoking area map all smoking area at Miami Airport are located in both arrival and departure levels, across the street from North Terminal D, Central Terminal E and South Terminal H/J.
Official Website of Miami International Airport
If you want more information about Miami International Airport, such as flight schedules, parking options, ground transportation, services and amenities, and more, you can visit their official website at www.miami-airport.com. You can also download their mobile app for iOS and Android devices, which offers features such as flight tracking, airport maps, shopping and dining guides, and more.
Alternative of Smoking area Miami Airport
If you are looking for an alternative or unable to find the smoking area at Miami airport, you might want to consider using nicotine replacement products, such as patches, gums, or lozenges. These products can help you reduce your cravings and withdrawal symptoms while traveling without smoking. They are also safer than cigarettes, as they do not contain harmful chemicals or produce secondhand smoke. You can buy nicotine replacement products at most pharmacies or online.
Another option is to quit smoking altogether. Quitting smoking has many benefits for your health, such as lowering your risk of cancer, heart disease, stroke, and other diseases. It can also save you money, improve your appearance, and enhance your quality of life. If you want to quit smoking, you can find support and resources at [www.smokefree.gov], a website created by the U.S. Department of Health and Human Services. You can also call 1-800-QUIT-NOW (1-800-784-8669) to talk to a trained counselor who can help you create a personalized quit plan. We hope this blog post has been helpful you to find the smoking area at Miami airport. We would love to hear from you. Happy travels and happy smoking!
FAQ's
Here are some commonly asked questions by travelers.
Can you smoke in Miami airport after security?
Airports in the United States where indoor smoking is still permitted include Washington Dulles Airport (located in Virginia, the home state of Philip Morris), McCarran Las Vegas, Memphis, Nashville, Cincinnati-Northern KY, and Biloxi.
Can I carry cigarettes in my luggage to the USA?
In contrast to alcohol, tobacco is recognized as a legal product. Consequently, it can be transported on all U.S.-based airlines without the fear of confiscation or penalties, as per the TSA guidelines. In fact, you are permitted to carry regular cigarettes and loose tobacco in your pockets, carry-on bag, or even your checked luggage.
Are you allowed to smoke in Miami?
NBC Universal, Inc. Miami has implemented a prohibition on smoking in all municipal parks and beaches, with the ordinance scheduled to become effective at the start of June. Miami has officially banned smoking at all of its city parks and beaches.
Can you smoke on international flights?
Important Points to Remember. Smoking has been prohibited on the majority of domestic and international flights for many years due to the hazards it presents to both passengers and crew members, such as the risk of fires and exposure to secondhand smoke.
How many cigarettes can I bring to Miami?
Individuals aged 21 and older who are importing cigarettes solely for personal use are allowed to bring a maximum of 200 cigarettes (equivalent to 2 cartons or 20 packs) and up to 100 cigars. Additionally, there exists an additional regulation that offers a workaround for specific travelers returning from designated destinations.