If you're a smoker passing through Atlanta airport, you might think, "Where is the Atlanta Airport smoking area?" Hartsfield-Jackson Atlanta International Airport, recognized as the world's busiest, connects to over 150 local and 70 overseas spots. So, can you light up here? Are there designated smoking zones at Atlanta Airport? Let's dive into the rules and details for smokers at this airport.
Where is the Atlanta Airport Smoking Area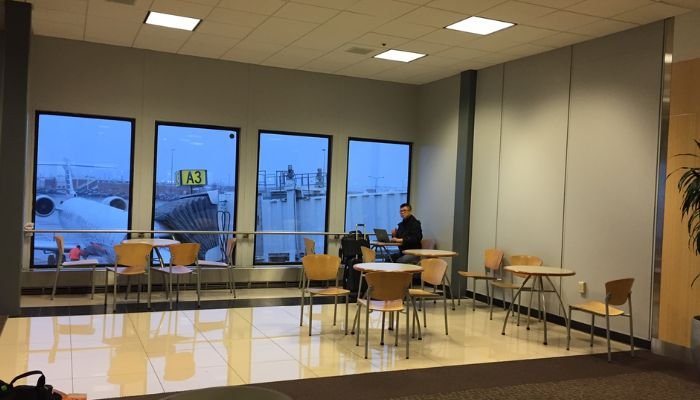 Unfortunately, there is no smoking area inside Atlanta airport. The airport is a smoke-free environment, as the Atlanta City Council passed an ordinance banning smoking and vaping inside the airport in 2019. All smoking lounges inside the airport are now closed. This means that you cannot smoke anywhere in the departure lounge, the concourses, or the terminals.
However, designated Atlanta Airport smoking areas are outside the domestic and international terminals. Atlanta Airport smoking areas are located at least 25 feet from the terminal entrances. You can find them on the lower level of both terminals, near doors LN1, LN2, N3, N4, S4, S5, S6, and S7. If you want to smoke after going through security, you will have to exit the airport and go through security again when you return.
Atlanta Airport Smoking Area Policies
As mentioned above, the Atlanta Airport smoking area is unavailable inside Atlanta airport. This includes cigarettes, cigars, pipes, e-cigarettes, and any other tobacco products. If you are caught smoking inside the airport, you will be subject to a $200 fine. You will also be asked to extinguish your cigarette or dispose of your tobacco product.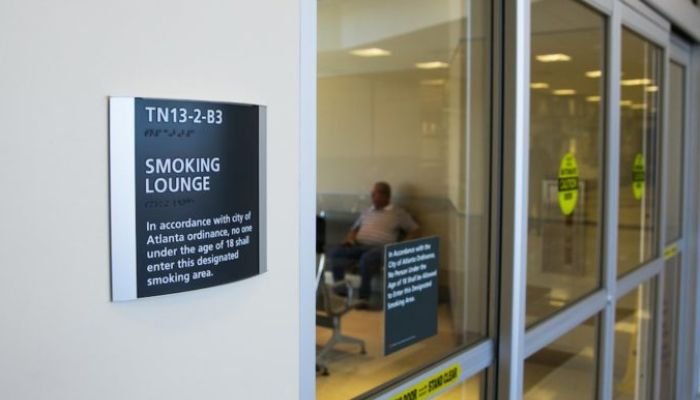 The only exception to this rule is for passengers who are traveling on international flights and have access to the Delta Sky Club lounge in Concourse F. This lounge has a separate smoking room that is ventilated and isolated from the rest of the lounge. However, this Atlanta Airport smoking area inside the airport is only available for Delta Sky Club members or eligible passengers who have purchased a day pass.
Can you buy Cigarettes at Atlanta Airport
You have a few options if you need to buy cigarettes at Atlanta airport. Several newsstands and convenience stores sell cigarettes and other tobacco products. You can find them in the domestic terminal and in all concourses. However, be prepared to pay a premium price for them, as they are subject to high taxes and fees. However, there is no shop near the Atlanta Airport smoking area.
Related: Smoking Area Denver Airport (DEN) – Exact Location, Map, Policies
Another option is to buy cigarettes at the duty-free shops in the international terminal. These shops offer cigarettes at lower prices than domestic ones, as they are exempt from taxes and duties. However, you can only buy cigarettes from these shops if you are travelling internationally. You will also have to follow the customs regulations of your destination country regarding the amount and type of cigarettes you can bring.
Atlanta Airport Smoking Area Map
To help you find the Atlanta Airport smoking areas outside the airport, we have created a map that shows their locations. You can see the map below.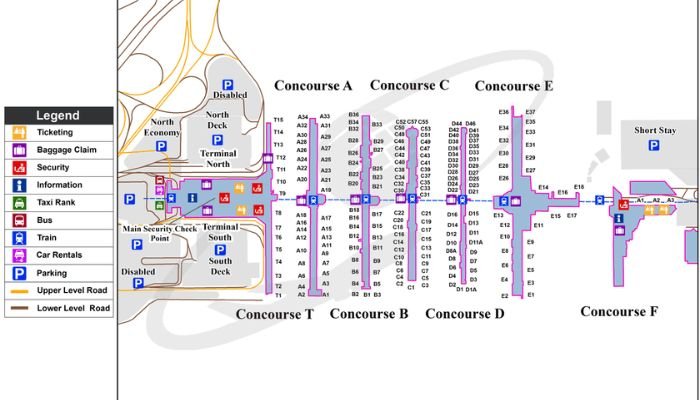 Smoking Area Map at Atlanta Airport
Official Website of Atlanta Airport
You can visit its official website here to learn more about the Atlanta Airport smoking area. You can find information about the smoking area at Atlanta Airport, flight status, parking, ground transportation, dining, shopping, services, and more. You can also contact the airport by phone at (404) 530-7300 or by email at customer.service@atl.com.
Official Website of Atlanta Airport: www.atl.com
Atlanta Airport – Official YouTube Channel
Atlanta Airport – Official Twitter Channel
Alternatives to Smoking at Atlanta Airport
If you are a smoker who wants to smoke by unable to find the Atlanta Airport smoking area, you might want to consider using some nicotine replacement products instead of lighting up a cigarette. These products can help you cope with nicotine cravings and withdrawal symptoms while you are travelling or waiting for your flight.
There are several nicotine replacement products that are approved by the FDA and available over-the-counter or by prescription. These include patches, gum, lozenges, spray, and inhaler. These products work by delivering a small amount of nicotine to your body without all the harmful chemicals found in cigarettes. They also help you gradually lower your nicotine dose until you are completely nicotine-free.
We hope this blog post has been helpful and informative for you to find the Atlanta Airport smoking area. If you are a smoker who is traveling through Atlanta airport, we wish you a safe and pleasant journey. And if you are thinking about quitting smoking, we encourage you to take the first step and seek help. Remember, quitting smoking is hard, but it is possible. And it is one of the best things you can do for your health and well-being.